The Asokoro District Hospital Abuja, says it is offering 24 hours services to patients in spite of the strike declared by the Joint Health Sector Union (JOHESU).
Dr Nnabuchi Chidi, Head of Clinical Services Department of the hospital, told newsmen on Friday in Abuja that members of staff of the hospital including doctors and nurses, were not on strike.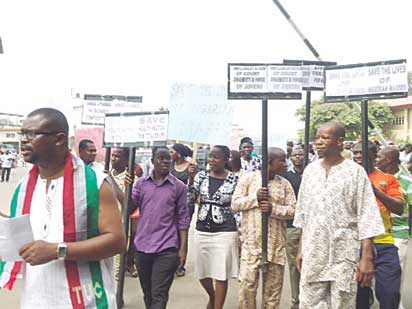 He said JOHESU members of the hospital were working fully without disruption of health services in the facility.
According to him, the hospital is offering healthcare services to both out and in patients.
"We are not on strike, though our members of staff are part of JOHESU, they have not joined the strike.
"The hospital is fully functioning; all the general hospitals in the FCT are fully working, we are fully operational.
"There is understanding in FCTA; for now they are not part of the strike, though I do not know what will happen in future, for now we are all working," he said.
Chidi said the members of staff were working in full capacity and meeting the challenges of the influx of patients.
"We expected the influx of patients and we made arrangements to overstretch ourselves a little more to try to accommodate more patients as much as this facility can," he said.
Chidi, however, appealed to Federal Government to end the recurring strike in the health sector by meeting up with agreements reached with any union.
He advised government to put in place strong policies to address the myriad challenges facing health sector in the country.
He further urged the government to harmonise various groups and meet their demands accordingly.
"There is no cadre in the sector that can operate in isolation, so we depend on each other to function effectively," he said.
Chidi, however, appealed to JOHESU to "sheath their sword" and return to the negotiation table, to save the lives of the masses.
One of the patients, Mrs Christy Onyekwere, told newsmen that she came to conduct some tests for her baby who was incubated in the National Hospital because of the strike.
She appealed to government to respond to the JOHESU demands.
On her part, Chiamaka, said she was attended to by the nurses and doctors on duty as soon as she arrived at the hospital with her sick baby.
She commended the management of the hospital for their services.
NAN