… As investors lose N24bn
By Nkiruka Nnorom
Trading on the equities market reverted to a loss this week after a positive close the previous week, resulting in loss of N24 billion to investors.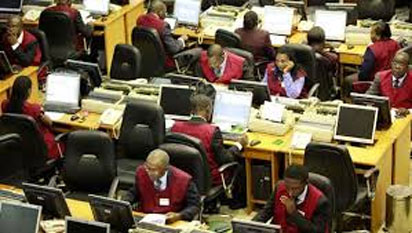 The losses were fueled by massive sell-off in a total of 53 companies led by Japaul Oil and Maritime Services Plc and Unity Bank Plc which have been bleeding following the negative news on the companies' finance deal agreement with Milost, a New York private equity firm.
Vanguard's analysis showed that the market capitalistion plunged by 1.60 percent to close at N14.753 trillion from N14.993 trillion at the end of the week.
The All Share Index, ASI, also fell by the same margin, dropping to 40,841.14 points from 41,504.51 points.
Japaul Oil and Maritime Plc plunged by 23.73 percent to close at N0.45 from N0.59. Unity Bank trailed behind with 17.21 percent to close at N1.01 from N1.22, followed by Jaiz Bank Plc with 16.05 percent decline to close at N0.68 from N0.81.
GlaxoSmithKline, GSK Plc's shares depreciated by 14.71 percent to close at N29.00 from N34.00, while Wema Bank Plc was down 14.14 percent to N0.85 from N0.99 per share.
On the other hand, Lasaco Assurance Plc led 18 other gainers, appreciating by 21.21 percent to close at N0.40 from N0.33. May & Baker Plc placed second, appreciating by 14.29 percent to close at N3.20 from N2.80.
Another insurance firm, Law Union and Rock Plc, ranked third, rising by 12.33 percent to close at N0.82 from N0.73; Unic Diversified Holdings Plc went up by 11.11 percent to close at N0.20 from N0.18, while Aiico Insurance Plc rose by 9.68 percent to close at N0.68 from N0.62 per share.
Further breakdown showed that the all major sector indices closed in the red with the oil and gas sector leading with 2.77 percent decline, followed by the industrial goods sector, which depreciated by 2.09 percent. The banking sector fell by 1.33 percent; consumer goods was down 1.08 percent, while the insurance sector fell by 0.07 percent.
Despite the negative performance, total volume traded within the week shot up by 84.13 percent to 501 million units, while traded value moved higher by 57.35 percent to N5.85 billion.
The financial services sector, measured by volume, led the activity chart with 1.468 billion shares valued at N18.707 billion traded in 12,850 deals; thus contributing 83.18 percent and 70.43 percent to the total equity turnover volume and value respectively. The conglomerates sector followed with 127.882 million units valued at N623.871 million in 971 deals.
The third place was occupied by consumer goods sector with a turnover of 69.868 million shares worth N6.189 billion in 2,930deals. Trading in the top three equities namely, Zenith Bank Plc, Access Bank Plc and United Bank for Africa Plc, measured by volume, accounted for 543.758 million shares worth N9.739 billion in 3,533 deals, and therefore contributed 30.81 percent and 36.66 percent to the total equity turnover volume and value respectively.