By Nkiruka Nnorom
Investors in the Nigerian Stock Exchange, NSE, rose by N31 billion this week following price appreciation in a total of 31 companies.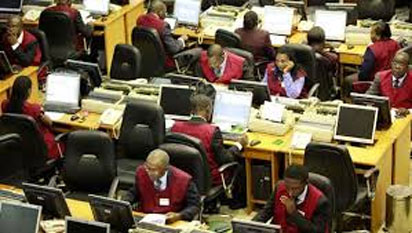 Some of the companies are Learn Africa Plc, 11 Plc, Oando Plc, Cement Company of Northern Nigeria, CCNN, and Japaul Oil and Maritime Services Plc among the top gainers.
Consequently, market capitalisation of listed equities rose to N14.784 trillion from N14.753 trillion last week, representing 0.21 percent increase.
Similarly, the ASI advanced by 0.21 percent to close at 40,928.70 points from 40,841.14 points.
Learn Africa Plc, which led others, rose by 18.56 percent to close at N1.15 from N0.97. 11 Plc (former Mobil Oil) appreciated by 17.65 percent to close at N200.00 from N170.00, followed by Oando Plc with 15.19 percent to close at N6.90 from N5.99.
CCNN was up 13.48 percent to close at N20.20 from N17.80 percent, while Japaul Oil and Maritime was up 13.33 percent to close at N0.51 from N0.45 per share.
On the other hand, 38 companies depreciated in price led by C&I Leasing with 18.02 percent to close at N1.41 from N1.72, followed by Consolidated Hallmark Insurance Plc with 14.71 percent decline to close at N0.29 from N0.34. Unilever Nigeria Plc declined by 13.04 percent to close at N52.00 from N59.80; NEM Insurance Plc depreciated by 11.11 percent to N2.40 from N2.70, while United Bank for Africa, UBA Plc, fell by 10.50 percent to N10.65 from N11.90 per share.
Father analysis of the week's trading showed that sector performance was largely bearish as only two of the five sectors closed in the green. The oil and gas sector led the gainers chart, rising by 3.8 percent buoyed by buy interest in Seplat Petroleum Development Company Plc, which rose by five percent during the week
The industrial goods sector, followed, appreciating by 1.3 percent on the back of two percent and 0.7 percent increase in Dangote Cement Plc and Lafarge Africa respectively.
On the flipside, the banking and insurance sectors were pulled down 2.2 percent and 0.8 percent respectively as a result of losses in United Bank of Africa, UBA's shares, which fell by 10.5 percent and Zenith Bank Plc, which also nose-dived by 4.4 percent, while Aiico Insurance also fell by 4.4 percent.
Similarly, the consumer goods sector plunged by 0.7 percent following sell offs in Unilever Nigeria Plc, which depreciated by 13 percent.