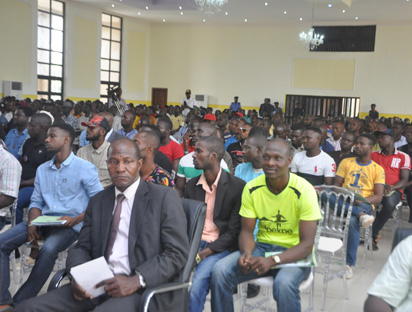 Cross-section of participants during the one-day Youth Entrepreneurship, Empowerment and Leadership Seminar organised by the state government in collaboration with the youth wing of the Edo State Chapter of APC at Uromi, Esan North-East Local Government Area, Edo State on Tuesday, April 24, 2018.
Riding on the growing influx of investors into the state, the Institute of Export Operations and Management (IEOM) said it has concluded plans to work with financial institutions on the training of Edo youths as well as providing them with financial support for processing and packaging agricultural products, mineral resources and art and craft products for export.

Some of the financial institutions the IEOM is finalizing these deals with are the Nigerian Export – Import (NEXIM) Bank and Bank of Industry (BOI).
Executive Secretary, IEOM, Mr. Ofon Udofia, disclosed this when a delegation of the institute, including members of the Benin Chamber of Commerce, Industry, Mines and Agriculture, paid the Governor of Edo State, Mr Godwin Obaseki, a courtesy visit at the Government House in Benin City.
He said the Institute was ready to organise training programmes for youths in the state in the areas of product development, processing and packaging to meet international standards and quality.
According to him, "The decision has been reached to complement the laudable socio-economic projects being embarked upon by the Godwin Obaseki-led administration. The plans to develop the Edo Inland Dry Port, Gelegele Seaport and the Industrial Park are credible and will open the Edo economy to international markets.
He said the partnership deals will include arrangement with NEXIM and BOI to provide funding for the processing companies, noting, "The processing companies would be set-up at the completion of the training programme."
Udofia said all that was required for the training was for the state to set-up a centre to serve as the training ground on export commodities development, adding, "In the centre, youths would be taught and exposed to viable business opportunities and how to harness export opportunities in agriculture, solid minerals and art and craft sectors."
The governor, who was represented by the Secretary to the State Government (SSG), Osarodion Ogie Esq., said the state will support investors to drive products manufacturing to supply domestic and international markets.
Obaseki explained that the Benin Industrial park, Gelegele Sea port and Edo Inland Dry Port will boost exportation, provide jobs for the teeming youth population and create wealth. "All of these cannot be achieved without empowering youths with requisite skills to prepare them to fit into the new job opportunities that would be created in the state," he said.