Akure – The Independent National Electoral Commission (INEC), says it is preparing to ensure a hitch-free governorship elections in Ekiti and Osun States, scheduled for July and September respectively.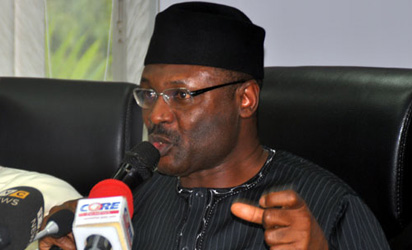 Amb. Rufus Akeju, INEC's Resident Electoral Commission (REC), Ondo State, made the disclosure at a workshop organised for Journalists in the South-West on Thursday in Akure.
It was organised by the Nigerian Press Council (NPC) and facilitated by Hammersmith Training Consult Ltd.
The theme of the workshop was "Responsible Media Coverage of Elections."
Akeju, represented by INEC Electoral Officer, Mr Tope Aina, said that the need to achieving a free, fair and credible electoral process culminating in generally acceptable election results in the two states could not be over flogged.
According to the REC, well conducted elections, promotes good governance.
He added that the forthcoming elections in Ekiti and Osun must reflect the popular choice of the electorate.
Akeju also said that responsible coverage of political activities by the media in an atmosphere of peace and orderliness would always result in a widely popular and acceptable outcome.
He said that INEC had a great confidence in the media given its historical background, experience and sense of responsibility demonstrated by the media professionals in their coverage of elections in recent times.
Akeju said that the media was expected to partner with INEC to ensure credible, free and fair elections in the coverage of the process.
He, however, encouraged journalists to take their roles as watchdog of the society with utmost sense of responsibility to ensure transparency of the processes.
"I need to remind the media that the electorate depend solely on you for information that would aid them in making informed choice among contestants.
"The commission equally depends very much on you to help inform the electorate on dates, timelines and procedures at the polls.
"It is my hope that our best and honest efforts can give this country a befitting place in the comity of developed democracies, if we tenaciously adhere to the rules and ethics guiding our conducts," he said.
Mr Nnamdi Njemanze, the Executive Secretary of NPC, said the objective of the workshop was to sensitise journalists on how to report the governorship elections coming up in both states as well as the 2019 elections.
Njemanze said that journalists are expected to focus holistically in monitoring and reporting electoral processes which include registration of voters, nomination of candidates, party primaries and campaigns among others.
He said that NPC felt greatly concerned about the use of hate speech, which he said was one of the causes of communal crisis and disunity among Nigerians.
Dr Gbenga Abimbola, a lecturer at the Adekunle Ajasin University, Akungba Akoko, Ondo State, in a paper titled, "Media Ethics and Hate speech," urged journalists to counter hate speech by adhering to the Code of Ethics of Journalism.
Abimbola, who expressed concern over growing level of hate speech among politicians in recent times, stressed the need for government to be proactive in curtailing incidence of hate speech.
He also advised the government to address remote and immediate causes of hate speech in the country, saying it was easy to curtail hate speech on conventional media than social media.
NAN reports that no fewer than 46 journalists drawn from private and public media from the six states of the South-west are participating in the workshop.