By Jimitota Onoyume & Cletus Opukeme
WARRI- AMID tight security,  Ijaw nation yesterday, celebrated the 47th birthday anniversary of ex-militant leader, Government Ekpemupolo aka Tompolo, re-affirming their demand for true federalism.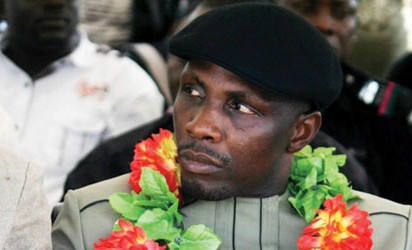 Dressed in white t-shirts with inscriptions Happy Birthday GOC, Happy birthday Hero of Niger Delta,  hundreds of Ijaw youths who thronged the place chanted Ijaw solidarity songs.
Chief Mike Lolibo and Rosemary  Bramaidah who gave the lectures on Niger Delta and the Burden of Resource Control,  called on the Ijaw nation to continue its agitation for fairness and justice to the region, describing Tompolo as  the liberator of modern day Niger Delta.
Lolibo said the  nation and the region will only know peace when the  issues of underdevelopment of  the Niger Delta region were redressed, calling on the Federal Government to enthrone true and fiscal federalism.
"Niger Delta will not know peace until you address the problem of true federalism. Resource ownership and resource control were agreements reached by our founding fathers, that is why the nation will not rest until the problems are redressed.
"The Nigerian constitution is  defective and the federalism is defective.  Tompolo's struggle gave us presidency. We will not rest until the injustice is redressed.
"All the cases against Tompolo are political. They must drop all the political charges against him," he said, lauding  Tompolo for promoting peace in the region.
Rosemary, on her part,  said: "We are marginalised. We shall not accept this. Tompolo is leader of the struggle of the Niger Delta, today, he is the GOC. Ijaw nation has never been conquered, restructuring is possible in our time."
Earlier, Chairman of the event,   Chief Wellington Okrika,  in his remark pledged to do more for the Ijaw nation, saying he had not met expectations of Ijaw youths as a leader. He lauded Tompolo for his contribution to the Ijaw struggle.