By Chioma Onuegbu
THE Chairman of Mkpat Enin Local Government Area of Akwa Ibom State, Mr. Ekanem Brown has explained the reason for the delayed smooth take-off of the coconut plantation in the council area.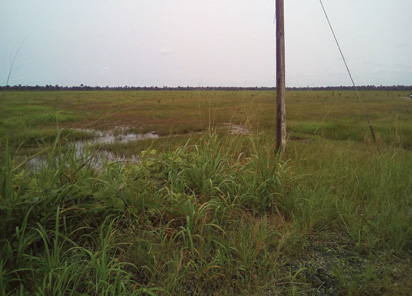 Brown, who said his people support and appreciate the various development programmes brought to the area by the government, attributed the communities' initial disagreement over the project to misunderstanding and lack of communication.
The council boss in an interview with Niger-Delta Voice said the people were not aware of the fact that government was extending employment to indigenes of Eastern Obolo and Ikot Abasi because the coconut plantation goes through their land too.
Mutual suspicion
He said: "The people said government has taken our land, and we want more people from our area to be employed. They felt government came to take our land, and are bringing somebody from Eastern Obolo, no we don't agree.
"But government is saying, yes your people will be employed, but it is not only your people that will be employed; although we are starting to cultivate the coconut in your community but it goes through Eastern Obolo and Ikot Abasi local government areas.
"So there was crisis then but it was just about misunderstanding. But today, there is an understanding; we don't have any problem with the coconut factory. You know communication is very, very important. Once there is break in communication, people could go for war. But when you communicate well with the people, the result is amazing."
According to Brown, the cooperation his administration has received from Mkpat Enin communities towards its various agricultural programmes and industrialisation efforts showed that the people actually appreciate and value development.
Laud Gov Udom's agric drive
"I commend Governor Udom Emmanuel for siting the coconut plantation and coconut refinery in Mkpat Enin. In our determination to key into the industrialisation drive and agricultural development programmes of the state government for the purpose of creating employment and generating additional income to the local government area, we have ventured into integrated agricultural development programmes and completed the shoe factory abandoned by two previous governments.
"We have acquired 150 hectares of land for plantain and ginger farming. We are currently cultivating seven hectares of land where we are planting cucumbers and tomatoes. And from our projection, we will make more than N12m from that farm monthly. That will be additional income to our area.
"And I commend communities in the local government area that have donated land to the council for the agricultural programmes. My appeal is for their continuous support and cooperation so that together, we will build a sustainable economic base and move Mkpat Enin to the next level of development," Brown said.
Economic boom
A farmer from the area, Mr. Sam Udobong, who described the effort as a welcome development, expressed the hope that within the next four years, economic activities in Mkpat Enin will begin to boom and Akwa Ibom people will come to value what they have here.
Udobong, who spoke to NDV at the project site said: "I had to visit this place to see things for myself and this is massive. I learned people from the communities especially the youths come here on daily basis to look for either casual or permanent job. You know the planting is done in phases.
"Initially, Akwa Ibom people did not believe it will work especially with the crisis that delayed its smooth take-off. Except you visit this place, you will not know it is real. This plantation is massive and it will surely open up the communities and attract economic activities to the state in less than four years. I am impressed with what I am seeing here."
A staff who spoke on condition of anonymity said, "even though we are planting in phases, so far, we have covered about 11 hectares of land."
Subscribe for latest Videos