By AYO ONIKOYI
High profile comedian of international repute, Francis Agoda, popularly known as I Go Dye marks 39 years of age today, April 4, 2018. Born in Abraka, Delta State, Nigerian on April 4th 1979, through his artistry he has continued to promote global peace and child welfare.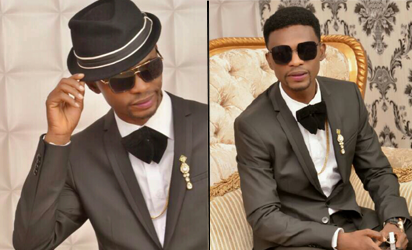 As a young child he grew up at Okpara Waterside with his grandmother,Queen Agnes , where he saw the numerous challenges facing rural settlements in Nigeria. This insight has motivated him to address some of these issues through his comedy and publications.
A review of his creativity dates back to his elementary school days at Ighogbadu Primary School and United College of Commerce, Warri, Delta State. At age 13 he met the first Executive Governor of Delta State, Olorogun Felix Ibru, after he exhibited an usual creativity for someone who grew up in the village to have the foresight to build an hovercraft ship, radio transmitter, hair dryer, projector, electric solar table fan and flying helicopter.
That probably made him the first Africa child to have built a flying helicopter and moving hovercraft ship. For this feat, he was awarded scholarship to study structural engineering at New York university. During his school days he was a member of the Junior Engineering Technical society (JETS club) and was made the zonal project manager to represent Delta State.
Though a comedian of international repute, but I Go Dye's first love was science. His romance with the arts didn't start until he was invited to Press Literally Art Drama and Debating Society (PLADDS) club where he did a presentation on his hovercraft ship.
"While watching the drama presentation I fell in love with art, believing I could use my voice to change the world through art, and subsequently I joined PLADDS Club and became the zonal social director," he recalled in a chat with Premium Times
Within a short while, his passion for comedy brought him wider acceptance and popularity,which he realized was a means to address mitigating factors affecting young children and many unprivileged people, based on what he witnessed growing up in the village of Okpara as a child. His first joke during the end o the year JETS club end of zonal party at Nana College, Warri, Delta State, Nigeria was titled 'Science and Art: Two Things Are Involved'. That joke became so popular like the national anthem in the school.
The birth of I Go Dye
" The name 'I Go Dye' is a name I derived from the sound of my surname, 'Agoda' and I have coined it as an acronym of ' Initiative Guide On Developing Youth Endowment'. Nobody gave me the name, I gave it to myself with a view to achieving my ultimate goal in life, which is youth empowerment and emancipation and preservation of the rights of the African child," he quipped when asked of how he came about the name.
However, his mother took him out of United College of Commerce to Essi College Warri so that his uncle who was a teacher in that school could monitor his activities. While at Essie College he joined (SVC) Social Variety Club where he met his best friend of today Otagware Onodjeyeke (Otas) now known as I Go Save. They paired up together and they stated presenting mock news on Delta State Broadcasting Service (Warri) in 1994,where they addressed several issues affecting the society.
Later he got a contract as a Stand-up comedian at Prest Motel in Benin City,while he also expanded his profile across different events in Nigeria.
After years of exploring his creativity he featured in Africa's biggest comedy show Opa William's Night of A Thousand Laughs, 2000 year edition. He performed for a decade and he was eventually honoured by the producer of Nite Of A Thousand Laugh, Mr Opa Williams as the most outstanding comedian to have been on Night of a Thousand Laughs stage for ten years.
The World Stage
His first European tour was with Isaac Izoya Golden Entertainment owned by Isaac Izoya. In 2005 the entertainment outfit took him round 7 country and 18 cities of Europe, including, Germany, Italy, Greece, Spain, Belgium, Holland and France. He was later contracted by (NIDO) France in 2006 to perform at the UNESCO Cultural Week, Paris, France and was presented an award for his contribution to uplifting the Nigeria Cultural value by NIDO, France. In 2008 he was paid $185,000 to tour the world. According to the Event Manager of Point Gate, Miller Allen, "the concept of the show is to fight against violence, racism and drug abuse.
In 2016 I Go Dye sold out 02 Arena London to mark his 20 years on stage with his I Go Dye: The Last Man which was endorsed by his State Governor, Arthur Okowa Ifeanyi Before the kickoff of his Last Man Standing I Go Dye has taken his comedy artistry round the world, perfoming in all the standard and best Africa comedy events across the globe and Nigerian,including MTV MAMA Award.
I Go Dye as a prolific comedian has remained the toast of the comedy industry, entertaining governors, presidents and diplomats. He also performed at the 2018 National Council of Nigeria Traditional Rulers, held in Port Harcourt with The Sultan of Sokoto, Alhaji Sa'ad Abubakar III, Ooni of Ife Adeyeye Enitan Ogunwusi and many others in attendance.
On the International stage he has shared the stage with renowned artistes like Akon, Boyz II Men, 50-Cent, Rick Ross, The Game, and Kelly Rowland, amongst other. He was listed among 100 most Influential Africans by global Icon and also among 100 most influential Deltans by Happenings Media in 2016.
Honours and Awards
Perhaps, I Go Dye is the most decorated African comedian. He is an Ambassador of the United Nations, working to actualize the United Nations objectives. He is a visionary comedian, motivational speaker,writer and social crusader. He won the prestigious Africa Child Prize, in 2017, an honour also bestowed on Dr Nelson Mandela,Prof. Wole Soyinka, former president of Nigeria, Chief Olusegun Obasanjo and President Adama Barrow of Gambia. which he dedicated to the Nigerian Army.
His roll call of honours and awards include: UKAIDS and youth alive foundation ambassador Award to make a difference against corruption 2017, which he dedicated to Nigerian pensioners; United Nations World Habitat Ambassador for his commitment and contribution towards development of Nigeria 2016, which he dedicated to Hilary Clinton; United Nations Millennium Development Goal Ambassador; Nigeria Entertainment Award (NEA) Best Nigerian comedian 2009 New York; and during the Nigeria Army day celebration 2017 he was honoured by Chief of Army Staff Lt General TY Buratai with the compliment "I Go Dye is the only civilian artiste in the world to be honour by the military."