Lagos – Hundreds of women from Alaba-Oro, Mosafejo and Amukoko area of Lagos on Thursday stormed the Marina headquarters of Eko Electricity Distribution Company (EKEDC), protesting over six years epileptic power supply.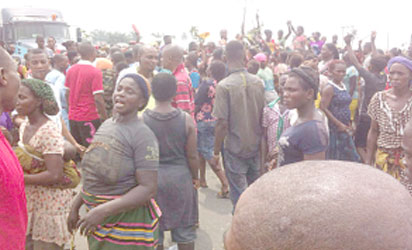 The all-women protesters prevented workers and visitors from entering EKEDC premises and caused traffic gridlock on the ever-busy Lagos Marina.
The placard-carrying women, who chanted solidarity songs, said their husbands have abandoned their respective homes due to the epileptic power supply in the areas.
"Women in the communities decided to come to Marina today because our men are no longer staying at home due to power outage.
"Most of our husbands now stay late nights outside because they know there won't be electricity at home,'' said Mrs Oluwatoyin Osunlowo,
spokesperson of the women protesters.
Osunlowo said that the communities had been experiencing epileptic power supply since 2013.
"For the past six years, we do not sleep with power supply in the communities.
"If they will bring electricity at all, they used to give us in the afternoons between 1p.m and 2p.m and that is all.
"Then at the end of the month, they will give us outrageous bills without enjoying the supply,'' she said.
Another protester, Mrs Mojisola Olaosebikan, said she had closed her frozen food shop at Mosafejo Market due to the epileptic supply.
"Our business involves power supply but due to the irregular supply, some of us who sell frozen foods are running at a loss, now we are out of business.
"We are appealing to the officials of Eko Disco to come to our aid and give us power supply in our community,'' she said.
Addressing the women, EKEDC Chief Executive, Adeoye Fadeyibi, urged the protesters to be patient with the company.
Fadeyibi advised the protesters to submit a formal complaint letter and assured that the company would treat their grievances as a matter of urgency.
He promised that the company would do everything possible to ensure regular power supply to the areas and advised the protesters to also ensure regular payment of electricity bills. (NAN)
Subscribe for latest Videos