Hollywood actor, John Boyega has expressed willingness to invest in Nollywood to further boost the movie sector.
Boyega, 27, spoke with newsmen on Thursday night on the sideline of Glenfidich circle of maverick's business meeting organised by PlayNetwork Nigeria in collaboration with Transcorp Hilton in Abuja.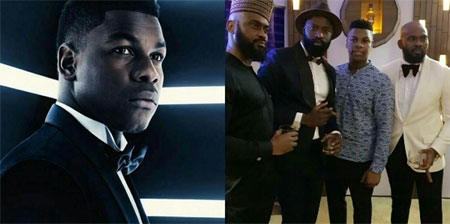 The British-Nigerian born actor said he intends to spend some time in Nigeria to produce a movie based on and inspired by Nigerian lifestyle and heritage.
"I intend to tour most parts of Nigeria for seven months to sort out few things and get inspiration for the movie.
I am yet to find a writer to depict my idea of the movie; I'll be staying a bit longer to find a writer".
The actor also revealed he has enjoyed his first official visit to Nigeria so far, insinuating this official visit will be the beginning of more collaboration with the entertainment industry in Nigeria.
"There is a lot of potential in the industry here in Nigeria; I will be working closely from now to promote the industry to greater heights.
"It's a chance to merge Hollywood with Nollywood, to bring the genuine and most important stories to light but captured in a professional way".
The star wars superstar also stated the planned budget for the movie saying, "we are deciding what makes sense budget-wise; we're probably looking at a budget of $20-$25 million dollars."
Newsmen report that the "Whiskey Business Evening" with Boyega, witnessed a performance from a saxophonist as well as preparation of a Glenfidich infused chicken sauce made by chefs from Zuma grill.
The actor is currently on a media tour to promote his latest Hollywood film, Pacific Rim Uprising.
He spent last Christmas in Nigeria during an unofficial trip where he attended Wizkid's concert that was held at Eko Hotel; Suites Lagos, and also took part in the Calabar Christmas carnival.
NAN