By Demola Akinyemi & Festus Ahon
ILORIN—Nigeria's former Permanent Representative to the United Nations, Prof. Ibrahim Gambari; former Governor Emmanuel Uduaghan of Delta State, and Yusuf Ali, SAN, said, weekend, that incessant clashes between farmers and herdsmen were inimical to the survival of Nigeria.
While Gambari and Yusuf Ali contended that the problem had destroyed the basis of the nation's resources, Uduaghan said it was actually tearing the nation apart.
Speaking at a symposium on ''Pastoralists and crop farmers' crisis:  A discourse on proactive measures to prevent conflict  in Nigeria," organised by College of Agriculture, Kwara State University, Malete, Gambari noted that thousands of people had been killed and communities destroyed, while many farmers and pastoralists had lost their lives in the orgy of killings.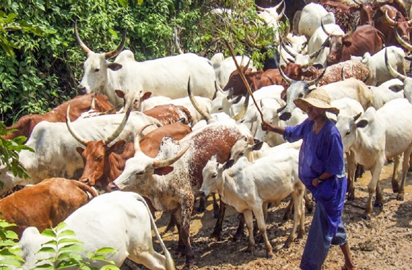 He said: "The conflict between them (herders/farmers) is multi-dimensional and it is widening and deepening at a time in our country where there are several other internal crisis.
"We have so many crises in this country and this could be the most serious. It touches our lives, our existence as a people and as country."
Gambari stated that legislation may not be the solution to the constant herders/farmers clashes.
Mallam Yusuf Ali, SAN, in his address on the occasion, lamented that the pastoralists and farmers conflicts had remained the most predominantly resource-use conflict in recent times in Nigeria.
He said it was important to ensure the reflation of Lake Chad Basin, adding that it had become imperative to develop both legal and policy framework for a transitional period during which new systems would be put in place.
Also, KWASU Vice-Chancellor, Prof. AbdulRasheed Na'Allah, said the conflicts between herders and farmers were threatening national development, integration, growth, national food production and security.
On his part, Provost, College of Agriculture, KWASU, Prof. Olawale Aliyu, said it was imperative to address the herders/farmers conflict as a matter of urgency because of its threat to national survival and food security.
Speaking on the issue, at the grand reception  organised by the people of Ubulu-Uku in honour of their daughter, Mrs Onyemeachi Mrakpor, a lawmaker in Delta State House of Assembly, in Asaba, former governor of the state, Emmanuel Uduaghan, lamented that the terror being unleashed on innocent Nigerians by the ravaging herdsmen was capable of tearing Nigeria apart.
According to him, the sensitive nature of the insurgency has successfully created a web of intrigue.
Uduaghan, who chaired the ceremony, said: "The issue of herdsmen insurgency is very sensitive. The challenge has the potential of breaking the country. It has done a lot of damage. Farmers are no longer going to farms. This means increase in hunger level. It is that bad."
Subscribe for latest Videos