By Chris Ochayi
ABUJA—Chairman, Presidential Committee on Small & Light Weapons, PRESCOM, Ambassador Emmanuel Imohe, has blamed the current strife between herders and farmers on unscrupulous arms merchants who are taking advantage of Nigeria's porous borders to flood the nation with illicit weapons.
Imohe, who stated this at a two-day stakeholders' dialogue on eradication of herders-farmers conflict in Nigeria in Abuja, noted that easy access to illicit weapons was responsible for the lingering herders/farmers clashes.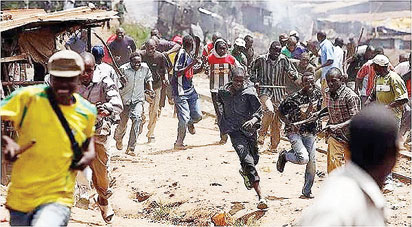 He said most of the weapons the herdsmen were using to launch attacks on several communities in some states in Nigeria got to them through these criminal syndicates.
He, however, regretted that in spite efforts to regulate proliferation of weapons in the region and elsewhere on the continent, several non-state actors, including herders and farmers, have continued to have access to small and light weapons, SALW, which have flooded communities in the country.
He said:  "The primary weapons of choice for the perpetrators of conflicts in our West African neighbourhood are the small arms and light weapons, SALW, which appear to be widespread and easily available.
"The long, porous borders are enablers for miscreants who indulge in trans-border trafficking of these weapons across West Africa."
This is further compounded by the preponderance of local craft manufacturers and artisans whose skills in arms production have improved over the years.
"In addition, there have been some leakages from official stockpiles not only in Nigeria but also in other ECOWAS member states and, indeed, across the globe as well.
"Hence, in spite of the substantial efforts at regulating proliferation of weapons in the region and elsewhere in the African continent, several non-state actors, including herders and farmers have continued to have access to SALW and as such, our communities continue to be awash with weapons,
"Easy access to illicit weapons is responsible, at least in part, for the heightened nature of insecurity in West Africa. The weapons are mostly coming in from outside the region, facilitated by the activities of criminal syndicates and unscrupulous arms merchants who take undue advantage of our porous borders and the inadequacy of our regulatory environment.
"The result is that in country after country in our neighbourhood, once protagonists of conflict have access to deadly weapons, they become less interested in embracing other conflict resolution alternatives, but would rather seek to use such weapons to define their own space.
"The invidious role that easy access to illicit weapons is playing in fuelling and accentuating varied security challenges in West Africa cannot therefore be over-estimated.
"Regarding the subject matter of today, several factors have impacted this age-long system of animal husbandry. Historical, economic and ecological factors, as well as ethnic, religious and political dimensions have all impacted the nomadic and pastoral system of livestock production.
"Climatic changes resulting in recurrent droughts and increased animal movement towards pasture and water, have all heightened the incidence of conflict in the country.
"The limited enforcement of animal movement control, notably the 1978 land use Act, has resulted in conflicts between crop farmers and herders where grazing routes have been blocked and animals have ploughed through farms.
"Conflicts have also arisen where cattle rustling incidents have been recorded. In recent times, such conflicts have led to deadly confrontations in communities, leading to casualties in terms of loss of human lives and the wanton destruction of property.
"Another factor which has impacted on the environmental space for both Herders and Farmers is our increasing population, resulting in the increased need for arable lands for crop cultivation for food security and the need for nations to develop infrastructure.
"These needs have resulted in the shrinking of farmlands and grazing routes thereby exacerbating the conflicts between crop farmers and livestock farmers.
"It is as a result of the forgoing, and as well the future impact or threat of same that we, as Nigerians must seat together and talk to ourselves with open minds with a view to critically and constructively diagnosing this raging security threat in order to proffer enduring solutions for the consideration of our government."