A cross section of youth groups in Ebonyi have decried the multiple taxation imposed by the state government on young entrepreneurs.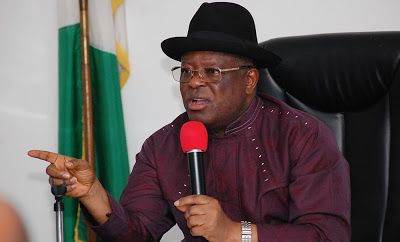 The groups made the observation on Wednesday in Abakaliki at a forum organized by a Non Governmental Organization, South Saharan Social Development funded by Open Society for West Africa (OSIWA).
The youth groups complained that the excessive taxation hindered their efforts to establish small businesses in the state after receiving training in various entrepreneurial skills.
Mr Ukpabi Ukpabi of the Salt Youth Network gave an instance of a beneficiary of an empowerment programme, who wanted to start a haircut shop at a low cost location, but was frustrated by excessive taxation.
"He was slammed with a tax of N36,000 which was even more than the amount he rent the shop.
"I appeal to the state government to look into the incessant taxation to enable youths be self reliant and subsequently reduce crime," he said.
Mr Vincent Nwogodo from the Young Visionary Association of Nigeria (YVAN) alleged that some of the tax agents were violent, accusing them of molesting citizens in the course of their duties.
"The excessive taxes come in form of business permit, waste management, local government levies, and sanitation dues.
"The situation has led to the closure of several businesses belonging to young entrepreneurs while others operate at odd hours to avoid tax agents," he said.
In his reaction, the Senior Special Assistant to the Governor on Internally Generated Revenue (IGR), Mr Sunday Okwuegbu, said that taxation was a tool for state development.
"Ebonyi is one of the states in the south east zone with the least tax payment-structure as the notion of excessive taxation should be corrected by the citizens.
"We consider the harsh economic situation in the country before pegging the tax rates because we do not want our people to suffer due to excessive taxation.
"It is however true that some tax agents are incompetent and engage in nefarious activities, such as inflation of tax rates, but we are already looking into that with a view to correcting them," he said.
A representative of the state Board of Internal Revenue, Mr Chima Esema urged the youths to perform their civic responsibilities of paying taxes for the development of the state.
"The government will look into activities of tax agents with a view to sanitizing them," he said.
The Program Officer of the South Sahara Social Development, Mr Onyinyechi Nwachukwu, said the forum was aimed at building the capacity of youths in becoming self employed.
"Government at all levels and other stakeholders should contribute in youth development as part of efforts to move the country forward.
The event was attended by various youth organizations drawn from different parts of the state. (NAN)