By Ugochukwu Alaribe
ABA—DEPUTY Majority Leader of the Abia State House of Assembly, Chief Solomon Akpulonu, has congratulated Governor Okezie Ikpeazu for emerging winner of Vanguard Newspaper Good Governance Award, 2017.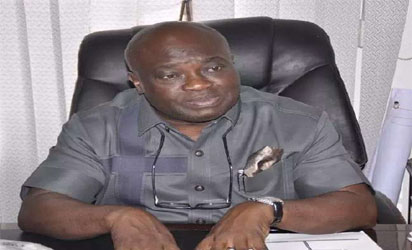 The lawmaker who stated in an interview with Vanguard, described the award as well deserved, considering the governor's infrastructural renewal programmes, promotion of made-in- Aba products, ensuring security of lives and property, as well as sustained efforts at boosting trade and commerce in the state.
He noted that Ikpeazu has shown the zeal and determination to make a difference in the governance of the state and deserves to be commended.
Akpulonu, who represents Obingwa East State Constituency, added that the governor's delivery of projects and political appointments across the 17 council areas of the state has brought development and unity to Abia state.
"Ikpeazu has done well within the time he has been in office. He is an apostle of good governance. He has completed many projects across the state. In Aba and Umuahia, he has rehabilitated several roads. Many others are ongoing. In my constituency, he has embarked on road projects and renovation of many primary and post primary institutions including health facilities. His choice of projects clearly marked him out as a governor who knows the need of his people.
"In fact, Ikpeazu has shown the zeal and determination to make a difference in the governance of Abia State. The good governance award to him by Vanguard Newspapers is well deserved."