By  Ediri Ejoh
What seems to be a major feud in the country's power sector may have started as operators, including the Electricity Generation Companies, GENCOs, Electricity Distribution Companies, DISCOs and the Ministry of Power, are battling over who supplies electricity to members of the Manufacturers Association of Nigeria, MAN, numbering over 1,600.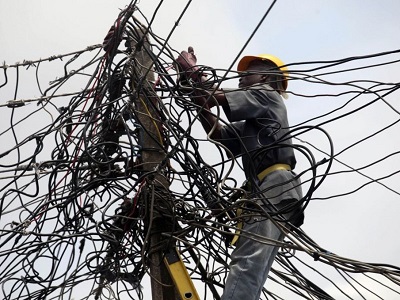 MAN members are considered to be major stakeholders in the industry as they pay bills, amounting to billions of Naira monthly.
The eligible customer's scheme is targeted at enabling customers purchase power directly from the GENCOs, instead of depending wholly on the DISCOs.
Commenting on the development, the President, MAN, Dr Frank Jacob, said that: "We are very much happy with the planned eligible customers' scheme. As it worth, we are graving for adequate power supply to help our businesses grow, which have gone down very much over time.
"If this development will help us recoup our losses in a long run, it is a welcomed idea. Currently, there is over 2,000Megawatts stranded and unable to be evacuated due to the inefficiency of the DISCOs, and would positively impact the sector as well as our operations if they can be utilized.
"Yes, the DISCOs are threatening to sue us for the debt alleged to owe for operating the old tariff MYTO 2.0."
DISCOs' opposition
Executive Director Research and Advocacy of Association of Nigerian Electricity Distributors, ANED Mr. Sunday Oduntan, has warned that the current market shortfall of N892 billion would be worsened by the new regulation.
"We are graving for adequate power supply to help our businesses grow, which has gone down very much over time"
"Indeed, the notice of force majeure submitted by the DISCOs, in itself, is not a declaration of force majeure. It is standard in any commercial agreement, and is predicated on the concern that the DISCOs, already on the verge of bankruptcy, will be further constrained in meeting the obligations of their Performance Agreements with BPE.
"No difference from a previous situation in which the regulator, arbitrarily, removed Collection Losses from the DISCOs' tariff in April 2015, a contributor to the current market shortfall.
"Unless we begin to see a consistency of sector governance, a critical requirement for the viability and sustainability of the Nigerian Electricity Supply Industry, NESI, it is unlikely that we will achieve the objective of 24/7 power supply, an outcome that all Nigerians deserve.
"There is a need for clarification on the recent Notices of force majeure that were submitted to the Bureau of Public Enterprises, BPE, by the electricity distribution companies, DISCOs, based on the recent issuance of the Eligible Customer regulation by the Nigerian Electricity Regulatory Commission, NERC,"
GENCOs celebrate
The Executive Secretary, Association of Power Generation Companies (APGC) Dr. Joy Ogaji, said the scheme will encourage competition and liquidity in the power sector.
According to her, there was no need starving willing and buoyant customers of power that was sourced from DISCOs, saying they (DISCOs) can work harder to improve power supply beyond the daily allocation they get for their franchise areas.
"DISCOs are actually able to get power through this arrangement on the grid. Those DISCOs willing to get additional power qualify as Eligible Customers as well.
"If they have more customers and are not getting enough due to the strict national grid allocation, they can ask for extra power. In that case, a DISCO will need a bilateral contract not with the Nigerian Bulk Electricity Trading Plc (NBET) but with a GENCO, and the Transmission Company of Nigeria being the third party.
"However, EC customers form less than 10 percent of DISCOs customers hence, they still have about 90 percent customers to deal with."
Fashola's promise
Minister of Power, Works and Housing, Mr. Babatunde Fashola, said, the implementation of the policy would help to evacuate stranded 2,000 megawatts, adding that an agreement on the tariffs that will be paid by eligible customer will soon be reached.
He said that: "efforts had been so far productive. While it is no longer news that we have reached a 7,000 MW generation capacity and have a 5,000 MW distribution capacity, what is newsworthy is that in the last month, we have met with Manufacturers Association of Nigeria, MAN, DISCOs, and GENCOs on how to implement the Eligible Customer Policy and increase connectivity to the 2,000 MW that is available.
"In many parts of the country connected to the grid, citizen feedback is positive, even though all the problems are not solved. Citizens acknowledge more power in dry weather, reduced hours of running their generators and reduction in fuel (diesel and petrol) purchase to power generators."