…Seeks use of gas for transportation
By Michael Eboh
Minister of State for Petroleum Resources, Mr. Ibe Kachikwu, Thursday, stated that the country is currently recording an under-recovery of N1.4 trillion per annum on Premium Motor Spirit, PMS, also known as petrol.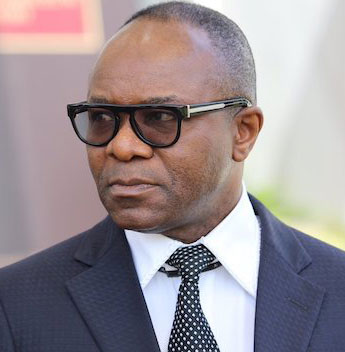 Kachikwu, who stated this at a workshop on harmonisation of Liquefied Petroleum Gas, LPG, regulatory requirements, said the unnecessary cost incurred from petrol consumption, especially as majority of the commodity is imported, had further highlighted the need for the country to shift to alternative energy for our transportation needs.
He said, "We need to move away completely from the utilization of only PMS in the transport sector. It is creating a lot of under recovery — over N1.4 trillion per annum to the Federal government. We need to begin to look into other components of cleaner fuels and rely less on PMS. It would be better for the country. It would eliminate fuel among others."
Under recovery, a situation whereby the NNPC is incurring the cost of the differential between the official pump price of premium motor spirit, also known as petrol, and the actual cost of the commodity, is another term for subsidy, since the official price of PMS is lower than the actual market price.
Kachikwu stated that the Nigeria Liquefied Natural Gas, NLNG, produce s a lot of gas, noting, however, that the major problem is that of evacuation.
He identified challenges of LPG use in Nigeria to include issues of infrastructure, storage, transportation, tariff, deployment of empty cylinders and the kind of incentive scheme that would encourage people to move from using firewood and electrical stove to the use of LPG.
He also added issues of safety, noting, however, that all these are issues that can be addressed with proper legislation and policies.
However, Kachikwu noted that the Federal Government is also hoping to launch an infrastructure rebirth map for the oil sector over the next two months, which President Muhammadu Buhari might launch.
He maintained that the policy would open up issues of tariff, create policy positions that would enable people actually go in and invest in critical infrastructure that is needed.
According to him, the country needs to find a way of finding enough incentives that enables the private sector to go in very bullishly and put the money where it is supposed to be and enable government to be able to reap from tax.
He said, "We need to move very rapidly, create the right incentives and encourage investments in infrastructure. I have challenged some of the players that said we cannot do this in Warri, the dredging is very essential; the water channel is very low and we cannot do this in Calabar for the same reasons. Lagos has only one known storage facility for LPG. What presents a challenge for investors to come together and actually dredge and create tax allowances for most of these investments?"
Also speaking, Benda Ataga, Senior Adviser on downstream and infrastructure, to the Minister of State for Petroleum Resources, said the Federal Government was currently looking at reviewing a number of policies that would make LPG affordable and increase its use across the country.
She said, "With our huge LPG production capability, I do not see any reasons while LPG is not affordable to the local consumers of the commodity. We are looking at the domestic supply obligation that frames how much LPG is being brought to Nigeria and the commercial obligation as well as the pricing.
"Today, there is VAT on LPG, but if you look at the Nigerian Custom Service codes and others, LPG and Butane is zero import duties today. There is VAT on LPG. We are in discussions on all the other aspects, such as imported LPG having no VAT inclination towards it. We are in discussion with the Ministry of Finance to balance that anomaly where imported LPG has no VAT."
Ataga added that the government was considering the diverse use of LPG, especially in the areas of supporting the quest towards energy diversity and security.
"What LPG will do is essential be an alternative to kerosene, PMS or diesel. We are looking at LPG being used for autogas, transportation, cooking as well as power generation in areas where it can be used."