"Governor Okezie Ikpeazu has been working hard to turn around the fortunes of Abia State for the better and there are visible achievements on ground to prove this. It is most uncharitable for any group or party under whatever guise to try to discredit the good works of the governor and deliberately mislead the people in the process all in the name of politics".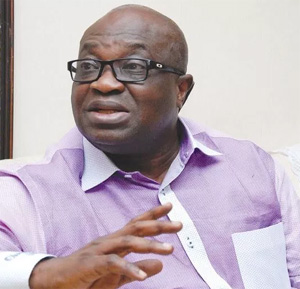 This much was stated in a communique issued at the end of the Abia Youth Forum convened by Mr Jude Ndukwe in Umuahia, the Abia State capital on Monday, April 9, 2018, to dispassionately assess the state of the State.
That part of the communiqué was obviously reacting to a statement credited to a group of professionals in the All Progressives Congress, APC, under the auspices of Abia Rebirth who had earlier faulted a national newspaper for consistently featuring advertorials of the Abia State governor's achievements on its front page, describing them as propaganda.
But in its own reaction, Ndukwe, on behalf of the Forum, said the APC group was only playing politics with the collective destiny of Abia people by embarking on such needless and vain tirade against the governor.
"Having exhausted all their lies, the Abia Rebirth group could not even deny the existence of these projects embarked upon by Ikpeazu but merely ended up claiming 'that the projects highlighted in the advert were used to siphon the collective resources of Abians'.
"In one breath, they claimed that the projects did not exist and in another, they claimed the projects were being used to siphon State resources. There is no way such confusion would not befall peddlers of falsehood and harbingers of chaos as the Abia Rebirth group.
"The question is, what resources are there to siphon in Abia when the revenues of the state are even hardly enough to meet the basic demands of governance which have since grown in monumental proportions recently if not for the prudent and pragmatic management of scarce resources by the governor?
"Rather than embark on this path of ignominy, the Abia Rebirth group should actually commend Governor Ikpeazu for bringing about the real Rebirth of Abia, a State that was left desolate and nearly obliterated by a chieftain of the APC, who was the first governor of the state in this current republic".
The communique concluded by urging the people of Abia not to allow themselves "to be swayed by the false hood of political hirelings working for their distraught political godfathers who are bitter because they have been perpetually dislodged from looting the state dry without any result to show for it except infrastructural decadence, social dysfunction and economic impoverishment of the people, all of which Ikpeazu is working hard to reverse".