By Chris Onuoha
The menace of touts and VISA racketeers in the country is a major concern among intending travelers. On a daily bases, applicants flock various foreign embassies in the country with touts intercepting and promise of easy Visa grants.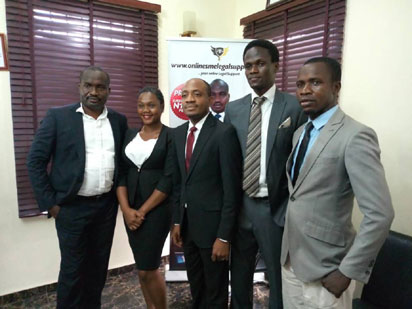 While many has fallen victims of this touts, urgent need to address the situation prompts a legal right group to initiate an immigration clinic. The rights group, Joel and Associates, a legal firm based in Lagos recently introduced the platform as their Corporate Social Responsibility (CSR) project.
Unveiling the clinic in Lagos, the firm's managing partner, Prince William-Joel reiterated need to bring to fore visa challenging issues to the public and ways of tackling it.
First and foremost, he lamented that touts in the guise of traveling agents are ripping off unsuspecting Nigerians their hard earned money with a forlorn promise of getting traveling visa to any country within 5 days. He said that it is a height of deceit and should be stopped.
According to him, "Worried by the influx of touts who have completely and effectually taken over VISA application and immigration related services from professionals in Nigeria, and in return, offer poor and abysmal services with consequences of visa denials from foreign embassies, Joel and Associates has launched its newest professional immigration weekly services called, 'immigration clinic' to offer practical knowledge of visa application requirement, procedure and travel counseling to visa applicants in Nigeria."
While enumerating the services of the clinic which comes under the platform of online and offline services, Prince Joel hinted that international attorneys across the globe are in partnership with the law firm to effectively handle all the immigration and legal matters in the either exit or arrival point of a traveler.
"Prince Joel and Associates are in partnership with two United States based attorneys and immigration experts. Nedum Ejiogu, a New Jersey Bar and Federal District Court attorney is working with us. Also Charles Ejiogu, New York based Federal District law practitioner is in the list. We have UK, Canada, Australia and others in partnership. The immigration clinic is a strategy and new innovation introduced by the firm to address the growing concerns and dearth of practical knowledge of visa application requirement. It will also cater for counseling and free visa assessments to prospective applicants including mock visa interviews," Prince Joel said.
Also speaking on the need to discourage tout patronage and giving back to society at little or no cost, he highlighted the percentage of visa denials, amount of money lost to VISA racketeers and need to sensitise the public about proper visa issues.
He mentioned that the clinic which started on April 9 will be holding every Thursday of a week with 2 hour sessions of lectures conducted between Nigeria and with foreign partners via electronic conference gadgets. Each week, immigration experts will talk about challenging issues travelers encounter and the best way to get legal attention.
Prince Joel also mentioned that every home deserves to be part of this clinic session to be equipped with knowledge of visa application before applying.
Subscribe for latest Videos