By Chris Onuoha
In what seems a prevalent ordeal for women in Africa, the story of genital mutilation among female children and its stoppage is still farfetched. Female Genital Mutilation (FGM) is an awkward cultural practice by some African tribes performed on women with hope to curtail their high sexual urge, and to keep them to one man husband.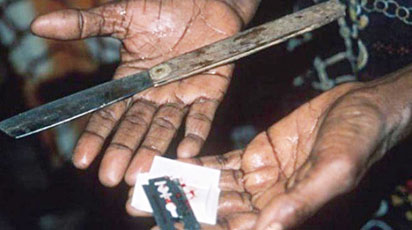 Much as this barbaric act is frowned at  by medical and sex experts globally, some Africans, rooted deep in their cultural belief seem not to yield to the demand of World Health Organization's call for stoppage.
In Nigeria for example, the spiritual attachment to it by the practitioners has made it impossible to eliminate, while some traditionalists believe that it will bring loss of cultural identity.
Not even the efforts of human right activists in the country, or the bill passed by National Assembly in 2015 had an effect as the traditional practitioners are adamant in keeping to their so called heritage.
For some women in Africa, it turns out a helpless situation especially when families decide the fate of their grandchildren. In the case of one Hajarat Mudashir, who boldly resisted such dehumanizing act on her children after two of her female daughters were forcefully circumcised, she fled the country as an option to protect her right.
According to her close relation in Nigeria, Temitope who spoke to our correspondent, Hajarat's disappearance has become a serious worry to the family members who wants her children back for tribal mark right performance. She said, Hajarat fled the country because her son and daughters were meant to go through another dehumanising act of facial skin cutting called 'Tribal Mark' ceremony.
To her, it is an indelible crazy identity mark that has no bearing to either fortune or longevity. She lamented that her two female children were forcefully abducted by their family member from school without their consent and genital mutilation was performed on them, leaving the children at serious health risk for months.
She said, "Hajarat Mudashir is a native of Ibadan town in Oyo State Nigeria. She is a 36 years old married mother of three children. She had fled her country home, Nigeria to escape an obnoxious and barbaric cultural practice in most African countries called female circumcision. Her ordeal was such a painful and unavoidable situation prevalent especially in the Southern part of Nigeria where Female Genital Mutilation (FGM) is rampant and seen as traditional sanctity towards marriage. Against her wish, her children were subjected to a dehumanising cultural practice of face cutting with sharp knife called (Traditional tribal mark) and female circumcision, meant to keep family lineage and culture.
According to her, this infuriated Hajarat so much that she couldn't bear it, hence, helpless. Her effort to seek intervention from security authority was to no avail as even the police and community leaders were mute over her appeal, calling it a family matter.
Hajarat, who was tricked into letting her two daughters go through genital mutilations without both she and her husband's consent, watch the young lads pass through pains and agony at such tender age. She became stubborn over what she called a self-defense of human right infringement stemming from the act and warnings from family members to ostracise her or even kill her.
Narrating her experiences to her close confidant Temitope before fleeing and what she went through in Nigeria with her family for the fear of torture and physical abuse, Hajarat reveals, "My two female children were taken to the family shrine and have a traditional circumcision performed on them.
They were just eight and six years old, poor little souls, they bled, they could not walk, they could not eat, they did not understand why such an act of cruelty will be sanctioned by their Grandpa. I took them to the hospital for treatment. I was depressed for days but the irony of it was that this act was perpetrated by my sister in-law under whose care the children were because my husband and I were not around," says Hajarat.
As her third child, was fingered to have his mandatory traditional tribal mark right performed, she objected and this resulted to the entire family calling her names with a threat to terminate her life saying she is going to bring shame and wrath of the gods to the family. In total fear and disillusionment with the society leaving her to her fate, she decided to flee the country to save her life and that of her children from such life threatening practice.
That she is out of the country is not an end to the story as the same family members are using all means to track and bring her back home alongside with the children, just for the rights to be concluded, Temitope said.
"When I informed my own parents about the issue, unfortunately they decided to stay out of it, because of threats from my husband family. I have received death threats including my parents too. The only option I have is to flee the country that has no protection for me."
Continuing, Hajarat laments, "I do not want my children to go through another circle of cruelty, which is bound to happen if we return to Nigeria. Because of the harm and torture my female children have suffered before on FGM operation and are likely to suffer when the mandatory tribal mark are cut on their face, I am afraid to go back to Nigeria to encounter such ordeal again in a society that care less about children's welfare.
My children and I have constantly lived in fear of   abduction, torture and even death.   The children belong to this family and I cannot change that, but I vowed not to let their faces be disfigured in the name of traditional customs from the father family`s tradition. This is what many families are passing through in Nigeria today. Most who do not have a voice have died while some are living in perpetual agony and disfigurement."
In most cases, many women are suffering similar case of childbirth problem and related cases caused by FGM operation while some have contacted chronic sickness through the practice. You may say one case too many, in a country where law against female genital mutilation (FGM) was passed and approved by the country's National Assembly in 2015, yet the entire society kept a deaf ear calling it people's culture that should not be tempered with.
One of such cases in the south-west, Ondo precisely, is that of Janet Ajanni, a teaching support staff of University teaching hospital, Ibadan.
Ajanni narrated her daughter's ordeal as a victim of FGM to a friend in the same institution.
She said her daughter would have been long dead had it not been the intervention of medical consultants and surgeons at the University Teaching Hospital in Ibadan.
Ajanni said her mother-in-law caused the circumcision of her daughter, something she tolerated because she had been totally ignorant of FGM and its effect until 2003 when she got married, got pregnant and had the baby.
As many cases of FGM, this case did not end well.
"An FGM was performed on my daughter six months after I left Ondo for Ibadan, Oyo state with my baby," Ajanni narrated, adding that it was not until her daughter turned three years that she discovered a growing bump on her genitalia.
"When my girl turned three years, I noticed that where she was cut had swollen. I wondered what it could be whenever I bathed her. By the time she was 8-years-old, it had grown very big."
Ajanni said when her kid turned eight; she decided to inform her mother-in-law who proffered a re-circumcision as the solution.
This time, Ajanni did not heed but by 2010, when her child turned eight the keloid had grown so big that it was alarming.
That was the beginning of the rather tortuous journey to healing, healing that will never be complete as Ajanni's daughter had got part of her genitalia cut – an act that is irreversible.
"I took her to a clinic in our neighbourhood and was opportune to see a matron. She inserted a syringe into the keloid and said it was mucus that accumulated in it. She recommended some drugs, I paid for her drugs and it was administered on her."
The drugs made Ajanni's daughter so drowsy that she slept through school on that day and afterwards, Ajanni said her daughter began to "lose her memory".
Meanwhile, the swelling was still there showing no signs of abating.
"I took her to UCH, Ibadan. After the back and forth at the hospital, we eventually saw the doctor who referred us to the laboratory for test. After these series of test and drugs administering for weeks, the situation persisted. We were asked to have the keloid operated."
Ajanni said she spent huge amount of money on the surgical procedure to take out the keloid that was caused by the FGM procedure.
"Without the surgery at the hospital, I would have lost my daughter from complications that followed her circumcision," Ajanni said.
Female Genital Mutilation has no known medical benefits to women and girls. In fact, according to the UNFPA, the attendant consequences of FGM are dire. "Complications include severe pain, shock, hemorrhage, tetanus or infection, urine retention, ulceration of the genital region and injury to adjacent tissue, wound infection, urinary infection, fever, and septicemia. Hemorrhage and infection can be severe enough to cause death," UNFPA says.
According to findings and report from the organisation, long-term consequences include complications during childbirth, anaemia, the formation of cysts and abscesses, keloid scar formation, damage to the urethra resulting in urinary incontinence, dyspareunia (painful sexual intercourse), sexual dysfunction, hypersensitivity of the genital area and increased risk of HIV transmission, as well as psychological effects," the organisation continued.
Meantime, Hajarat, who perhaps, may have escaped the country of such ugly practice, is one among numerous African women who are not relenting in seeking intervention to protect their rights and as well embark on sensitisation drive to stop the practice.
Nigerian government has a role to play in making sure that the laws already enacted which are not effectively functioning should prevail. As it stands today, many of these traditionalists still persists and have not been jailed for performing the act according to findings.