By Rotimi Ojomoyela
ADO-EKITI—GOVERNOR Ayodele Fayose of Ekiti State has ordered the withdrawal of the murder case against the state chairman of the All Progressives Congress, APC, Chief Jide Awe and others.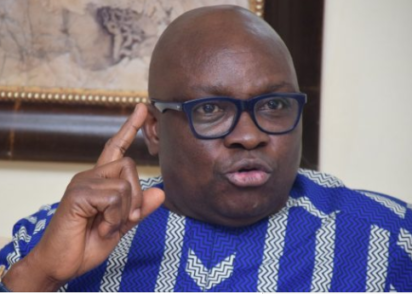 Awe, his aide, and other members of the APC have been on trial for the alleged murder of  late Madam Juliana Adewunmi,  and Murphy Jeje, a member of the Peoples Democratic Party, PDP, in 2013.
The late Adewunmi was  mother of Mr. Segun Adewunmi, current Deputy Speaker of Ekiti State.
The Attorney General and Commissioner for Justice, Mr. Kolapo Kolade, moved an application for the withdrawal of the case which came up for hearing, yesterday, before Justice Dele Omotoso of High Court 7.
He said the state was withdrawing the case in order to promote peace and brotherliness among the people of Erinjiyan Ekiti, which is the community where both the complainant and the defendants in the matter hailed from.
He also said governor Fayose has ordered the withdrawal of the case in spite of political differences because of his belief in posterity, peace, and welfare of the people of the community which was said to have been divided over the court case.
Justice Omotosho, while granting the  Attorney General's  application said the court supported the development because it was aimed at promoting peace.
Why murder case was dropped
Speaking with newsmen on the development, Kolade said: "What happened in court (today) yesterday is far beyond politics. The governor, in his usual characteristic  manner of promoting peace and brotherliness in all communities in Ekiti and across party lines, has intervened in this matter. So many good people across  Nigeria, even the defendants in this matter, have appealed to his Excellency to intervene in this matter, particularly in Erijinyan, more so as the defendants and complainant are of the same family. The complainants have given the go ahead and said the matter should be withdrawn. This development equally supports the cause of justice. One of the cardinal principles of justice is the promotion of peace.
"The major beneficiary is Chief Jide Awe, the APC chairman in Ekiti State. He, alongside his aide and other party members, were alleged to have murdered late Madam Juliana Adewunmi, mother of the Ekiti Deputy Speaker and Murphy Jeje, a member of the PDP. The complainant is the Deputy Speaker of the Ekiti State House of Assembly.
Defence  counsel commends govt
One of the  defence  counsels in the matter, Ibrahim Olanrewaju, said: "reason  seems to have prevailed today; the Attorney General himself came to court to withdraw the charge. And by the provision of our law, the court was left with no option, than to discharge and acquit the defendants."