…as Bonny Light price leaps towards $75 per barrel
By Udeme Akpan & Prince Okafor
NIGERIA's excess crude account is set to swell as the price of Bonny Light leaps towards $75 per barrel in the international market.
The price of Bonny Light stood at $74 per barrel in the market yesterday, showing only $1.0 below the expected target.
The price of Brent and WTI also stood at $74.06 and $68.40 per barrel respectively in the international market while the price of OPEC basket of 14 crudes stood at $70.96 per barrel.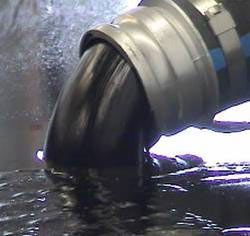 OPEC stated that: ''The price of OPEC basket of 14 crudes stood at $70.96 a barrel on Thursday, compared with $69.39 the previous day, according to OPEC Secretariat calculations.
''The OPEC Reference Basket of Crudes (ORB) is made up of the following: Saharan Blend (Algeria), Girassol (Angola), Oriente (Ecuador), Zafiro (Equatorial Guinea), Rabi Light (Gabon), Iran Heavy (Islamic Republic of Iran), Basra Light (Iraq), Kuwait Export (Kuwait), Es Sider (Libya), Bonny Light (Nigeria), Qatar Marine (Qatar), Arab Light (Saudi Arabia), Murban (UAE) and Merey (Venezuela).''
Excess revenue
At the current price, the nation generates $28.06 per barrel in excess of the $45 per barrel reference price of the 2018 budget.
This amounts to an excess revenue of $64.5 million daily as the nation had budgeted to produce 2.3 million barrels per day in the budget.
President Muhammadu Buhari had stated in his budget address that: ''The 2018 Budget Proposals are for a Budget of Consolidation. Our principal objective will be to reinforce and build on our recent accomplishments. Specifically, we will sustain the reflationary policies of our past two budgets. In this regard, the key parameters and assumptions for the 2018 Budget are as set out in the 2018-2020 Medium Term Expenditure Framework, MTEF and Fiscal Strategy Paper, FSP. These include: Benchmark oil price of US$45 per barrel; oil production estimate of 2.3 million barrels per day, including condensates; exchange rate of N305/US$ for 2018; real GDP growth of 3.5 per cent; and inflation rate of 12.4 per cent.
''The Federal Government's estimated total revenue is N6.607 trillion in 2018, which is about 30 per cent more than the 2017 target. As we pursue our goal of revenue diversification, non-oil revenues will become a larger share of total revenues. In 2018, we project oil revenues of N2.442 trillion, and non-oil as well as other revenues of N4.165 trillion.''
Expectation
There are indications that the market would witness increased stability as the Organisation of Petroleum Exporting Countries, OPEC and non-members of OPEC continue to cut their output.
In its statement sent to Vanguard, the organisation added that: ''The OPEC/Non-OPEC Joint Ministerial Monitoring Committee, JMMC, convened in Jeddah, the Kingdom of Saudi Arabia, for its eighth meeting, on 20 April 2018.''
It stated that: ''Based on the Report of the Joint Technical Committee, JTC for the month of March 2018, following successive months of record-breaking performances, OPEC and participating non-OPEC countries have achieved a conformity level of 149 per cent with their voluntary production adjustments, the highest level so far.
''The JMMC was established following OPEC's 171st Conference Decision of 30 November 2016, and the subsequent Declaration of Cooperation made at the joint OPEC-Non-OPEC Producing Countries' Ministerial Meeting held on 10 December 2016 at which 11 (now 10) non-OPEC oil-producing countries cooperated with the 13 (now 14) OPEC Member-Countries in a concerted effort to accelerate the stabilisation of the global oil market through voluntary adjustments in total production of around 1.8 million barrels per day.
''The resulting Declaration, which came into effect on 1 January 2017, was for six months. The second joint OPEC-Non-OPEC Producing Countries' Ministerial Meeting, held on 25 May 2017, decided to extend the voluntary production adjustments for another nine months commencing 1 July 2017.
''At the third joint OPEC-Non-OPEC Producing Countries' Meeting, held on 30 November 2017, it was agreed to amend the Declaration of Cooperation so that it will take effect for the entirety of 2018.
''Once again, participating countries have demonstrated unwavering dedication to achieving the rebalancing of the global oil market, as demonstrated by the high conformity level of 149 per cent.
''Their collective efforts continue to yield positive results, with market fundamentals being solid. OECD commercial stock levels have been adjusted from a peak of 3.12 billion barrels in July 2016 to 2.83 billion barrels in March 2018, corresponding to a drop of 300 million barrels.
''Nevertheless, it was noted that the current commercial stocks remain above levels seen before the market downturn. The high conformity level has been validated by a diverse range of reporting agencies and media outlets.
''The JMMC tasked the Secretariat to look into different metrics, with an in-depth analysis of addressing larger uncertainties in the market. The JMMC urged all participating countries to remain focused on and, where necessary, intensify their efforts on the basis of the core principles of transparency, fairness and equity, which are central to the "Declaration of Cooperation."
''The JMMC noted assuring statements by Iraq, Kazakhstan, Libya and Venezuela and expressed its satisfaction with Iraq and Kazakhstan's expression of support for further improving their conformity levels. Given the ongoing transformative impact which the "Declaration of Cooperation" has on the global oil market, the JMMC will continue to think through further means of strengthening the Cooperation.''