By Rotimi Ojomoyela
Ado-Ekiti-A suspended member of the Ekiti State House of Assembly, Gboyega Aribisogan was arrested by some security operatives at his house in Ado-Ekiti and whisked to Abuja,at about 6.30am on Wednesday.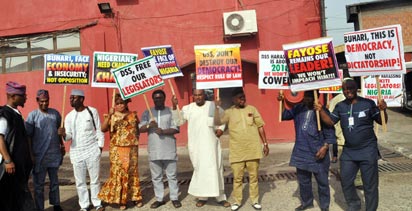 File photo
Aribisogan, the Minority Leader of the House of Assembly, defected from Peoples Democratic Party (PDP) to All Progressives Congress (APC) last year.
Before his defection, Aribisogan was suspended by the PDP-dominated House of Assembly wh accused him of disloyalty to Fayose.
More details soon