By Douglas Anele
The question that arises now is: how did retired Maj. Gen. Muhammadu Buhari manage the Petroleum (Special) Trust Fund (PTF)? A detailed analysis published in Newswatch magazine of March 24, 2000, reveals sordid information about how the fund was allegedly systematically mismanaged.
Aside from the fact that an estimated 75% of PTF projects were cited in the north, its achievements were overshadowed by massive waste and corruption.
Remember, the total income that accrued to the fund in its five years of existence was over N146 billion, meant for special intervention in basic infrastructure, supply of essential materials and rehabilitation of health and educational facilities, among others.
The first blunder Buhari committed as the executive chairman of PTF was his unilateral appointment of a private firm, Afri-Projects Consortium (APC), as the sole adviser and management consultant to the fund.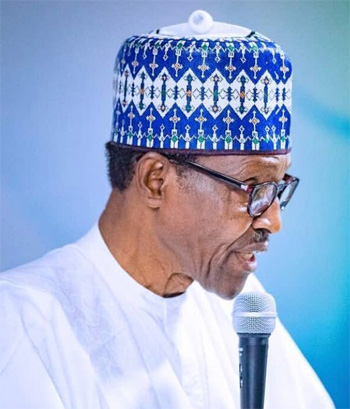 The investigative Interim Management Committee (IMC-PTF) set up by Chief Olusegun Obasanjo, headed by Haroun Adamu, discovered that not only did Buhari delegate most of his powers to the APC, it also confirmed that the consortium overcharged the fund for its services to the tune of N2 billion. One of the critical areas of intervention in the health sector handled by the company was PTF's programme for the control and eradication of HIV/AIDS, where it allegedly  imported sub-standard, poorly packaged, poorly stored, expired or soon to expire treatment kits and drugs.
Indeed, because of APC's unprofessional handling of the programme, the federal government spent over N500 million to stock big silos of useless drugs and kits purchased at inflated prices. At the time, late governor Abubakar Audu of Kogi state, Dr. Rowland Ogbonna, secretary of the Nigerian Guild of Medical Directors, and Omololu Falabi, coordinator of Journalists Against Aids (JAAIDS), insisted that unless all PTF supplied drugs were withdrawn Nigerians are at a high risk of consuming expired and fake drugs.
Other cases of mismanagement of public funds include the purchase of large quantities of spectacle frames sold N800 each locally for N1,900, resulting in government paying N45 million extra, and ambulances that normally costs N3 million per unit were purchased at the grossly inflated price of N13 million, leading to a loss of N900 million. In all the areas that PTF was expected to carry out its interventionist mandate, Obasanjo's interim committee concluded that there had been massive fraud or criminal mismanagement of funds belonging to the PTF.
Indeed, Haroun Adamu reportedly complained that before his committee began its assignment, N500 million belonging to the fund and lodged in a bank had been withdrawn by unidentified persons. Overall, of the N146 billion PTF received from government, the staggering sum of N25 billion was either stolen or improperly spent on dubious goods and services.
Of course, APC denied any wrongdoing: the company issued a statement in which it claimed that its members were people of impeccable character who had undertaken several national and international assignments during and after the PTF years. Similarly, Buhari, when confronted with allegations of mismanagement of PTF's funds, affirmed that he was unaware of it and as such could not have benefited personally from what happened.
But does his denial hold water? Assuming that he did not benefit from the corruption, was he so insular or alienated from what was going on in PTF that he had no idea about corruption there? In any case, as we noted earlier, he approved the appointment of APC and delegated virtually all his executive powers to the consortium. Moreover, it is alleged that Buhari himself ratified all recommended payments from the fund.
Therefore, because the buck stopped at his table, Muhammadu Buhari cannot be completely exonerated from the mismanagement in PTF if the findings of the interim committee reflected the true situation.
Now, what happened to the final report of the committee? If the report contained details of gross mismanagement and corruption as reported in the media, why was Buhari not invited to give account of his stewardship? If Obasanjo was really sincere in setting up the investigative winding down committee, if he really wanted to know the truth about how PTF was managed and punish anyone found guilty of improper conduct, why was he eager to exonerate Buhari completely from blame?
The answer to the last question is: Muhammadu Buhari is one of the so-called sacred cows or untouchables alongside other former military heads of state who appear to be above the law. Besides, putting him in the hot seat might unearth facts that could tarnish his reputation for integrity and incorruptibility.
Those that voted for Buhari on the conviction that he would improve the economy were hoodwinked by the persistent narrative of integrity and incorruptibility from Buharimaniacs: they did not reckon with his track record both as a military head of state and executive chairman PTF to arrive at a more realistic and rational estimate of what he can achieve in that critical area of our national life. Moreover, Buhari seems averse to accepting responsibility especially when things go wrong under his watch.
According to President Buhari and his lieutenants the immediate past government left the economy in shambles, but now, owing to diligent management the economic outlook is "looking up." They cite increase in foreign reserves from $24 billion in 2016 to $34 billion in 2017, rise in crude oil production to about 2 million barrels a day, World Bank's "Ease of Doing Business Report" of 2017 which showed that Nigeria had progressed 24 places to 145th, improvement in rice production and modest gains of the Economic Recovery and Growth Plan (ERGP) launched by the administration to ensure continuous improvement of the economy.
Now, juxtapose these claims with the situation before May 29, 2015: after being rebased by the Jonathan administration, Nigeria's economy was adjudged the largest in Africa and 24th in the world. According to "CNN Money", a flagship economic, financial and monetary analysis programme of the Cable News Network (CNN), Nigeria's economy was the third fastest growing economy in the world, bettered only by China and Qatar, whereas the British government claimed it was the fourth.
A World Bank Investment Report prepared by the United Nations Conference on Trade and Development (UNCTAD) projected Nigeria as the number one destination for foreign direct investment in Africa. Added to all this are about $30 billion in foreign reserves, $5.6 billion dividends from Nigeria Liquefied Gas Co. Ltd, and a budget of over N4 trillion inherited from the outgone Jonathan government by the incoming Buhari administration. It should also be pointed out that when APC took over power, the official pump price of fuel was N87 per litre, the exchange rate was N199 to one $1, while data from the Nigerian Bureau of Statistics put inflation rate at a single digit.
The foregoing seems to contradict claims by Buhari and his party stalwarts that Nigeria's economy had virtually collapsed by the time he took over. In fact, in some areas the economy seems to be getting worse now. For example, the Nigerian sank into recession in 2016. That same year, according to information from Bloomberg L.P., a privately owned software, data and media company headquartered in Midtown Manhattan, New York, the naira was the fourth worst performing currency in the world, having lost more than one hundred percent of its value in 2014.
Current estimates of job losses since APC came to power range from 3 to 7 million, mostly due to retrenchment of workers and closure of thousands of manufacturing firms and other enterprises in the real sector. Perhaps President Muhammadu Buhari and his team are trying their best to improve the economy. However, there is no clear evidence that their policies are working.
The welfare of ordinary Nigerians has not improved significantly in the last three years, which leads me to the question: if the improvement Lai Mohammed and others are talking about is real, why are more and more experiencing increasing hardship than they did before June 2015? Certainly, the President and his lieutenants are not listening to the masses, the voiceless millions who are weighed down by double digit inflation, worsening insecurity and the psychological trauma of failed hope on the President as the messiah.
Objectively considered, the economic policies of this government are inappropriate for our current circumstances, a fact reiterated by an ardent supporter of the President, Dr. Dele Sobowale, and Bill Gates, one of the richest men in the world. Millions of ordinary Nigerians feel alienated economically from the government because they are becoming poorer, hungrier, more insecure, destitute and disillusioned about the future.
I, like others bearing the burdens of incompetent leadership, trying so hard to eke out a living with low income worsened by the depreciating value of the naira, do not need an expert  to inform us that our economic fortunes in the last three years have nose-dived such that "changing the change" is increasingly becoming an attractive proposition.