By Sam Eyoboka
TOWARDS achieving its mandate to cater for the sick and ensure easy access to healthcare services by the rural dwellers, the O5 Initiative, a pet project of the Wife of the Delta State Governor, Dame Edith Okowa, recently launched a state-wide free medical outreach targeted at the grassroots.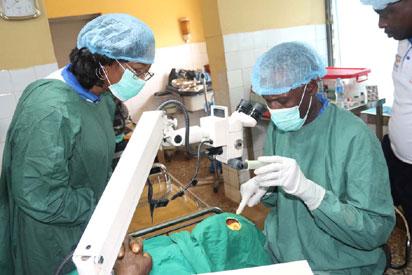 Flagging off the programme at Government Hospital, Umunede in Ika North East Government area,  th Okowa, who spoke in Ika language,  said it was not accidental that the medical campaign which would berth in the 25 local government councils of the state was kicked-off from Ika North East.
Highlights of the three-day programme included  free screening/treatment for eyesight, distribution of glasses and mosquito nets; consultation and counselling on family planning and other primary health care services.
For dwellers in the community, the   outreach was welcome relief as they expressed gratitude to O5 Initiative and other partners including, Restore Sight Africa Initiative and Delta State Primary Health Care Development Agency.
In his welcome address, Chairman, Ika North East Council Area, Barr. Victor Ebonka, said improved access to good health care was "one of the cardinal points of Universal Health Leverage" as well as "direct fulfilment of Governor Ifeanyi Okowa's SMART Agenda No. 4".
The Founder of Restore Sight Africa Initiative, Dr. Ernest Ogbedo, decried the presence of virtually all the medical facilities in the rural areas while most of those affected resided in the rural settings.
"It is for this reason we decided to come to the grassroots and reach out to the poor with free medicare,"
Ogbedo who described the focus as  caring for the poor and caring for the less-privileged, said  over 40,000 Deltans are blind with over 20,000 suffering from cataract of which majority arw women.
"We're here to help you deal with the cataract and other eyes problems. Just come and avail yourselves of this opportunity," he enjoined the people.
On her part, Dr. Isioma Okobah, Chairman, Delta State Primary Health Care Development Agency,  said the outreach was a rare opportunity for the people to screen for Blood Pressure, diabetes, HIV/AIDS and other primary health care services and enjoined them to maximize the opportunity.