Records N242bn revenue
By Yinka Kolawole
Dangote Cement exported a total of 211 kilotons of cement to three African countries namely, Ghana, Togo and Niger in the first quarter (Q1) of 2018, while also significantly increasing its local supply by 5.3 per cent to nearly 4 million tons during the period.
Group Chief Executive Officer, Joe Makoju, disclosed this in his comment on the first quarter (Q1'2018) audited results for the three months ended 31st March 2018.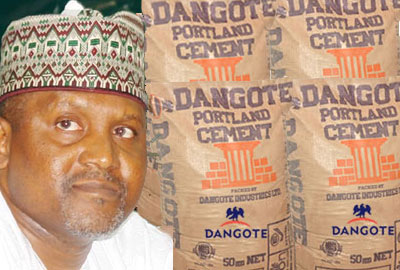 In the results announced on the floor of the Nigerian Stock Exchange (NSE), Dangote Cement's gross revenue increased by 16 percent to N242.1 billion in Q1'2018, from N208.12 billion in  the corresponding period of 2017.
The company's gross profit for the period also rose to N144.76 billion from N120.36 billion indicating an increase of 20.30 percent, while profit before tax (PBT) rose by 40.2 percent to N108.04 billion from N77.32 billion and profit after tax (PAT) went up by 29 percent to N72.12 billion from N55.8 billion.
A breakdown of the results showed that the total volume of cement sales by the Group went up  by 2.8 percent to 6.2 million tonnes with Nigerian volumes up by 5.3 percent to nearly 4.0 million tonnes.
Speaking on the results Makoju stated: "The first quarter of 2018 has started strongly with substantial increases in revenues and profitability that drove excellent cash generation across the Group. Despite a slightly slower start to the quarter, Nigerian volumes increased significantly in March and underpin our confidence that 2018 will be a good year for the Group. Across our Pan-African operations, higher revenue per tons boosted revenues and increased EBITDA (i.e. Earnings Before Interest, Taxes, Depreciation and Amortization) margins, with great potential to improve further when Tanzania switches to gas."
Expatiating further, Makoju said: "Through our recent investments, Dangote Cement has eliminated Nigeria's dependence on imported cement and has transformed the nation into an exporter of cement serving neighbouring countries."