Investors lose N650bn in post-results
By Peter Egwuatu & Nkiruka Nnorom
The full year 2017 (FY'17)  corporate results of 96 major companies quoted on the Nigerian Stock Exchange, NSE have shown a significant impact of the recovery of the economy which started mid last year, with their gross earnings surging by over 22.3 percent to hit N7.6 trillion from 6.2 trillion in 2016.
Financial Vanguard's inquest into the reports turned in to the NSE for 2017, indicates general upbeat in gross earnings and Profit Before Tax, PBT, with companies drawn from various sectors of the Exchange posting combined profit  of N1.8 trillion, representing a huge 40 percent rise against N1.2 trillion reported in the corresponding period of 2016.
The results, both the earnings and pre-tax profit of the companies, outperformed the country's average inflation figures which stood at 16.5 percent during the period under review.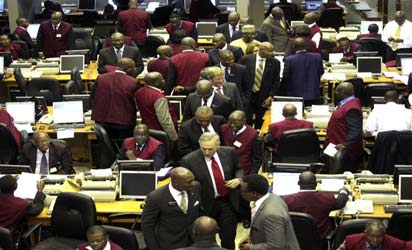 However, despite the impressive performance of corporates in 2017, the stock market reaction since March 2018 when the FY'17  results started trickling in, has been on the negative as the market recorded bearish trend with market capitalization dropping to N14.753 trillion  at the end of trading last week Friday, from  N15.403 trillion at the beginning of March. This shows that investors have lost over N650 billion within this period.
Market operators and stakeholders have opined that most investors had already priced-in the full FY '17 results of companies in the stock prices during the market rally that occurred between December 2017 and January 2018.
They explained that what is happening in the market now is basically an extended period of profit taking as investors are no longer interested in dividend payout, which to some are not justifiable with the earnings recorded by the companies.
They further stated that the lack of clarity in the fiscal and monetary policy directions further weighed on market sentiments despite the continued deceleration in inflation rate and positive figures in other macroeconomic indicators.
But other stakeholders who also expressed disappointment that despite the good performance displayed by companies, stock prices are still declining in the stock market, attributed the current stock market performance to the coming general election as most investors are being cautious.
Companies' analysis
Meanwhile, analysis of the 96 companies' performance in 2017 showed that the banking sector dominated other sectors in both gross earnings and   PBT, recording N2.5 trillion   and   N662 billion , thus accounting for 40 percent and 36.8 percent of the total gross earnings and PBT respectively. Trailing behind the banking sector is Oil and Gas sector, recording N971 billion gross earnings and N50.7 billion PBT, thus accounting for 15.7 percent of the total gross earnings, but occupied fifth position in terms of PBT as it accounted for a paltry 2 .8 percent of the combined profit. Industrial Goods sector came third, recording N898 billion gross earnings and N307 billion PBT, thus accounting for 14.5 percent of the total gross earnings and 17.1 percent of the combined companies'PBT. It was followed by Consumer Goods recording N822 billion gross earnings and N146 billion PBT and accounted for 13.3 percent of the total gross earnings and 8.2 percent of combined PBT, while Breweries/Beverages sector occupied fifth position recording N508 billion gross earnings and N53 billion PBT, thus accounting for 8.2 percent and 3.2 percent of the total gross earnings and PBT respectively.
Sectorial Review
The banking sector which comprises of Guaranty Trust Bank, GTBank, Zenith Bank Plc, UBA, Access Bank, FCMB and Jaiz Bank recorded a total of   N2.5 trillion gross earnings, representing a growth of 22.1% from N2.03 billion in 2016. Zenith Bank led the sector in absolute terms with745.2 billion gross earnings. It was followed by Access Bank recording N459 billion gross earnings and UBA occupied third position with N462 billion gross earnings.
The Oil & Gas sector has11 Plc, Forte Oil, MRS Plc, Total Nigeria Plc, Seplat Petroleum Development Company, and Rak Unity Petroleum Company. Total Nigeria occupied the first position in the chart in absolute value recording N288 billion gross earnings in 2017 from N190.9 billion in 2016, thus representing 50.9 percent growth.   Trailing behind Total is Seplat Petroleum recording N138 billion gross earnings in 2017 from N63 billion in 2016, representing a growth of 119 percent, while Forte Oil, came third , recording N129.4 billion gross earnings in 2017 from N148.6 billion in 2016, representing a decline by 12.9 percent.
The Industrial Goods sector has Dangote Cement, Cement Company of Northern Nigeria, BOC Gases Nigeria, Aluminium Extrusion Industries, Berger Paints, CAP Plc, First Aluminium , Paints & and Coatings Manufactures, Portland Paints & Products Nig., Austin Laz & Co., Grief Plc and Beta Glass. The sector recorded N898.9 billion gross earnings in 2017 representing a growth of 29.9 percent from N691 billion in 2016.
Dangote Cement occupied the first position in absolute term in the sector, recording N805.6 billion gross earnings in 2017 and accounted for 89.6 percent of the sector's earnings. It was followed by Beta Glass recording N 22.186 billion gross earnings and accounted for 2.5 percent of the sector's earnings, while Cement Company of Northern Nigeria occupied third position recording N19.588 billion gross earnings and accounted 2.2 percent of the sector's earnings.
Operators /Stakeholders react
Mr. Dolapo Ashiru, CEO, Mega Capital Financial Services Limited, said: "The upsurge in the earnings and profitability of quoted companies is attributed to the improved liquidity in foreign exchange, FX, which occurred around May last year due to the introduction of the Investors' & Exporters, I&E FX window along with improved macro-economic indices and Gross Domestic Product, GDP.
Explaining the prevailing downtrend in the market despite positive earnings reports, Ashiru stated that most investors had already priced in the full year results of stocks during the 'Santa Clause" rally in the stock market that occurred December last year and spilled into January 2018.
"What is happening now is basically an extended period of profit taking as investors are opting for booking profit on share price capital appreciation instead of dividend. The expected quarter one, Q1, results of companies will indicate whether stock prices are under-valued or over-priced," he said.
Analysts at United Capital noted that the earning reports so far released are very good. But said: "That the earnings declaration session fell at a time when the market was experiencing correction from the January 2018 rally when the All Share Index, ASI, emerged as one of the best performing markets globally.
In fact, the nine month 2017 earnings already gave a good indication of the magnitude of full year earnings declaration and investors appeared to have priced this into their buying decisions early in the year. In effect, FY-17 earnings declarations were not sufficient to drive the market back to the green region."
In his own view, Tunde Oyediran, stockbroker with Calyx Securities described the results so far released as 'very good.'
"For the banking sector, we have seen that of Zenith Bank and GT Bank. They posted very good result; the same with the health sector. GlaxoSmithKine gave a special dividend. You see N7.00 per share dividend for N30.00 stock is very wonderful.
So, generally, the results are good but because the stocks have appreciated so much before the release of the result in January and some part of February, it is like the market is now correcting itself using the result. That is actually what we are seeing, not that the results are not good. In fact, we are impressed with most of these results. We are optimistic that the ones we are expecting will also be good but we might not expect commensurate response from investors because they believe that most of the stocks have already over-priced, Oyediran added.
Also speaking, Mr. Patrick Ezeagu, Managing Director/CEO, Solid Rock Securities Limited said: "Ordinarily, one would say that the results are wonderful judging from the difficult operating environment and the fact that the country is just emerging from recession. Companies were able to cover their overhead and still declare some dividend.However, the reality is that for investors, the dividends declared are not as good as expected and therefore the negative reaction to the release of the results, he stated.
Mr. Moses Igrude, Spokeperson for Independent Shareholders Association of Nigeria, said: "An increase of 23 % year to year companies earnings as shown is a sign that most companies have stabilized and adjusted to the economy realities of today by using their available resources in most effective and efficient ways to deliver results. It's portend that given the right economic environment the Nigeria managers can do wonders as compared to their counterparts in others part of the World. I am appealing to the policy makers to encourage and support them by providing rights policies to enhance the growth of the economic.."
Mr. Sola Oni, Chief Executive Office, Sofunix Communications & Investment and a chartered Stockbroker, said:   "A company may post good earnings and the share price still continue to  decline.Investment in equity is forward looking, hence based on expectation. If the good earnings fall short of expectation of investors, they may begin to dumb shares. There are instances where a company posts good result and announce profit warnings that the next result may not be as good. Some nervous investors may lose confidence in the company's future performance and embark on share dumping
"Also, when the entire market is undergoing bearish run, good corporate earning may not necessarily reverse the trend immediately.   An increase in earning of many companies is indicative of good monetary policy. But at individual corporate levels, quality  of earnings and the effect on shareholders' expectation must be considered. The future is bright going by the macroeconomic variables but the current silence of the Monetary Policy Committee on the interest rate may cause minor panic."
Going forward
Going into the second quarter, Ashiru said it is expected that the 2018 Q1 results of quoted companies will help 'firm up' stock prices as some companies will post better results for Q1 2018 compared to the corresponding period in 2017.
On his own part, Ezeagu said that the corporate earnings for the second quarter would reflect events in the macro-economy. "I will be surprised if any other bank will beat what they have done, but having said that, people should be looking at the fact that companies are going concerns. We believe that if the economy continues to improve, the numbers will gradually continue to improve, he said.
In their own view, analysts at Cordros Capital said: "Notwithstanding continued decline, our medium-to-long term outlook for equities favours positive returns, anchored on strengthening optimism about macroeconomic conditions, positive corporate performance, declining yields on debt instruments, and partly, compelling re-entry opportunity created by lower share prices."