With less than 48 hours to the relay events at the ongoing Commonwealth Games in Australia, Olalekan Soetan, the Athletics Federation of Nigeria (AFN) statistician on Wednesday said that preparations were in top gear.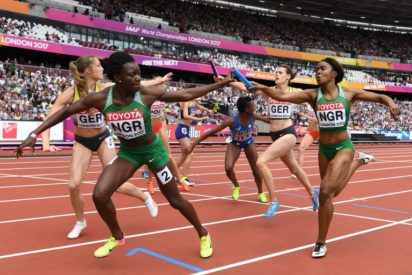 The 4x100m, 4x200m, 4x400m relays are scheduled to begin on April 13 at the Carrara Stadium, while Nigeria will be featuring in the men and women 4x100m.
Soetan said from Gold Coast, Queensland, that AFN was focused on the four relays, as preparation was going on smoothly.
"We are focused on the four relays, we are expecting four medals from the events,'' he said.
However, Olusoji Fasuba, a member of quartet that won the 2004 Olympics Games 4x100m bronze medal, also on his Facebook page wrote:
"I am proud of the Nigerian 100m men, now boys, you can go get the medal in 4x100m.
Deji Aliu, also a member of the quartet that won the 2004 Olympics Game 4x100m bronze medal also wrote on his Facebook page: "A very big well done to all of the Athletics family at the Commonwealth Games.
"Especially, those who just finished competing in my main event, well done to you all, all the best wishes to those still to compete.''
The Games is scheduled to end on April 15. (NAN)