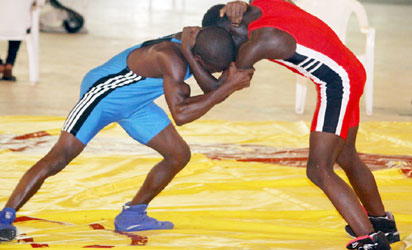 Wrestlers size each other during a bout.
Ibadan – Bayelsa Governor, Seriake Dickson on Tuesday rewarded wrestlers that represented Nigeria at the just-concluded Commonwealth Games, for their creditable performance.
The governor gave the sum of N13.9 million to the athletes and the technical crew during a reception in Government House, Yenagoa.
Each of the gold medalist got the sum of N1.5 million, silver medalist got N1 million and bronze medalist N 700,000.
Wrestlers that did not win any medal also got N500, 000, while the coaching crew got N1 million.
The President of the Nigeria Wrestling Federation (NWF), Daniel Igali commended Dickson for his unflinching support for wrestling in Nigeria.
"His role in the battle to have wrestling back in the 2020 Olympic Games can't, but be appreciated.
"The Bayelsa State governor has been supportive of the Nigeria Wrestling Federation," Igali said.
The Olympian added that Dickson's keen interest in the sport was based on the fact that he was a former wrestler, and his father was equally adept in the sport.
"He also knows the importance of wrestling to an Ijaw man.
"The governor calls himself the governor of the Niger Delta and some of the medalist coincidentally are from the Niger Delta", he added.
Igali said, "this is a governor who travelled to Glasgow to cheer the wrestling team at the 2014 Commonwealth Games.
"He is our biggest supporter and we are happy for this gesture bestowed upon the wrestlers."
NAN reports that the wrestling team won a total of eight medals which comprised three gold, two silver and three bronze. (NAN)