Sequel to Governor Godwin Obaseki of Edo State's directive that students from the College of Agriculture, Iguoriakhi be posted to agricultural institutions in the state, about 50 of them have commenced a 3-month internship at the facility of Okomu Oil Palm Company Plc.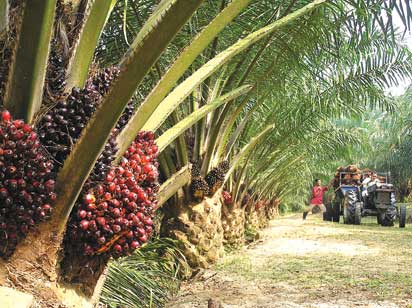 Managing Director, Okomu Oil Palm Company Plc, Mr. Graham Hefer, who disclosed this in a chat with journalists, said the training is in fulfillment of an agreement entered into with the Edo State Government on the training of students from the college.
"The students will be with us for a period of 3 months. The training commenced Monday, April 23. They will be trained for three months in all aspects of agriculture available here," he said.
Noting that the training would afford the students the opportunity to learn about diverse areas of the company's operations, he said, "We are happy to be opening our door to students to undertake their Industrial Training here with us. Obviously, this step is good for us because, through the training, we can identify potential good students in our succession planning so that we will know who is coming through.
"The more these students learn from us the better for the company, as it would help us. With this, we don't have to rescale them if we need people coming through. Before now, we had Industrial Training (IT) students from Colleges of Agriculture but the partnership for the training of these 50 students is the first on a large scale," he added.
According to him, "At Okomo Oil, we have a close relationship with the state government. In fact, we interface with the state ministry of Agriculture and get along very well with the ministry. Permanent Secretary in the Ministry of Agriculture has been very resourceful to us. We have very close ties with the Special Adviser to the Governor on Agriculture, who has also been resourceful to us."
Hefer attributed the recent expansion of the company to the ongoing institutional reforms and investment drive by the Edo State Governor, Mr. Godwin Obaseki, noting, "With the level of ongoing infrastructural development and institutional reforms being carried out by the Godwin Obaseki-led administration, things are looking promising for investors in the state."
He said he has been keeping track of the governor's drive to attract investors to the state, stressing, "This is commendable. In recent months, I have seen how busy the governor has been, interfacing with potential investors visiting the state."
On the ongoing institutional reforms, Hefer said, "The state government ministries, agencies and departments are now more professional in interfacing with private investors in the state. We are experiencing a two-way communication with government officials at the ministries which we have not had in the past. When there are issues we don't understand, we pick up the phone and talk with the officials for clarification."
Noting that the state governor was committed to infrastructural development, Hefer noted, "I hope to see the Gelegele Seaport and Industrial Park projects completed very quickly. On our part as a company, we are studying how these projects would benefit us in the short and medium terms."