The church of Nigeria Anglican Communion of Orlu diocese has crowned Sen. Hope Uzodinma the Ambassador of Christ of the diocese for his long standing tenacious commitment to the service of God and the growth of the church.
Uzodinma a devout catholic who represents Imo West (Orlu Senatorial district) in the red chambers of the National Assembly was the guest speaker at the 17th mothers union conference of the diocese at St. Andrews Anglican Church during the weekend in Orlu where he spoke on "The Remedy to the continuous marginalization of the South East in project Nigeria", and concluded that a Nigerian President of Igbo extraction in 2023, Restructuring and Technological advancement by the Igbos, were the remedies.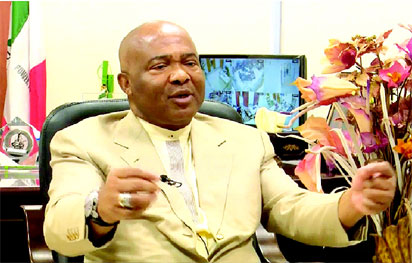 The unique Ambassador of Christ award was conferred on him in a colorful ceremony by the Arch Bishop of the diocese which covers the 12 local governments in Imo West. His Lordship, the most Rev. B.C Okoro.
The President of the women ministry of the diocese, Mrs D.A Okoro (Nneoma) who was assisted by other women to decorate the Senator with the award said the honour was bestowed on him by the women of the diocese because they have observed his activities for many years, "and arrived at the unassailable conclusion that his senator is sincerely devoted  and committed to the service of God and the growth of the church".
"We have followed with keen interest Senator Uzodinma's uncommon devotion to the Service of God and the growth of the church and we are satisfied that he deserves this award which should encourage him to do more work for Christ not just in Orlu diocese but in Imo State and Nigeria" Mrs Okoro declared.
Uzodimma who is the Senate Committee Chairman on Customs, excise and tariffs and Chairman Southern Senators Forum, thanked the Church for the rare honour and assured that he will do his best to live up to their expectations.
Earlier in his speech, the Senator said there was abundant evidence that the South East has indeed been continuously marginalized. He recalled that Ndigbo had a competitive edge over other nationalities in the country before the outbreak of the civil war and traced the root of the marginalization to the Coups and Counter Coups of 1966, the civil war and the post civil war policies of the government.
According to the Senator, one way to remedy the scourge was for the Igbos to produce Nigeria's President in 2023 so that they can be reassured of accommodation by the rest of Nigeria and also restore their battered post war psyche and sense of dignity. He argued that to achieve this, Ndigbo should support a Northern Presidential Candidate in 2019 who will not seek re-election, but only after extracting an agreement from him that he will support the South-East for the presidency in 2023.