Pep Guardiola has challenged his Manchester City team to play "the perfect game" to overcome Liverpool in the Champions League quarter-final second leg at the Etihad Stadium tonight.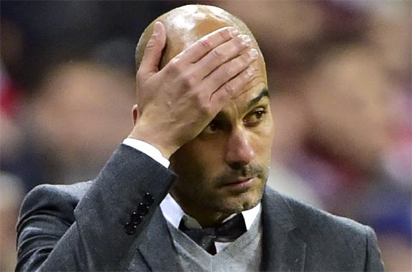 City trail Jürgen Klopp's side 3-0 and they followed last Wednesday's defeat in the first match at Anfield by losing at home to Manchester United 3-2 on Saturday, after surrendering a two-goal lead and missing the chance to clinch the Premier League title.
Guardiola is conscious his players may be affected mentally by these reverses and, while striking a positive note by saying his side can use the challenge as inspiration, he understands how difficult the task is.
"Of course to go through you have to make the perfect game, create chances, be clinical and concede few chances," said Guardiola.
"All the conditions have to be perfect. The aim is tough but we have 90 minutes and in football everything can happen.
"What we are going to do is try. We have to score the first one, then make the second one.
The perfect scenario is to go through. At the end we cannot forget that it is a simple game [of football] and focus on every single minute. If we concede, don't give up – it's more than 90 minutes [with added time]. Many times we have created a lot of chances in a short period. We have to be clinical and if we are not then move on to the next [chance]."