By Kelechukwu Iruoma
THE Computer Professionals (Registration Council of Nigeria), CPN, has said Computer-Based Centres, CBTs, that are not accredited by the Council and without CPN logo, will not be allowed to partake in the 2019 Unified Tertiary Matriculation Examination, UTME.
Vice-President/Vice-chairman-in-Council of CPN, Mr. Kole Jagun, who said this at the CPN Media Executive Forum held at Sheraton Hotel, Lagos, noted, "By next year, any UTME CBT centre that does not have CPN logo (not registered by the Council) will not be allowed to register students for the examination and will not be accredited."
He stated that the Council had agreed with the Joint Admission and Matriculation Board, JAMB, to allow CPN register and accredit all CBT centres to enable professionalism and expertise in the discharge of their duties.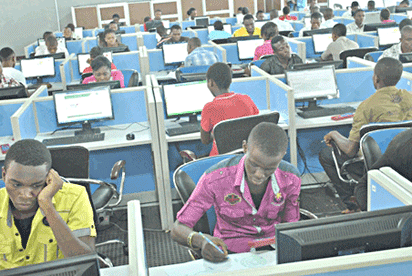 While explaining the need for the Council to register and accredit the centres, he said many of the centres lack professionalism and ethics in the discharge of their duties as information practitioners.
CPN is a Federal Government agency established in 1993 to regulate, supervise and control the practice of information technology practitioners in the country. It also accredits computer training institutions, including tertiary institutions in the country.
The President/Chairman-in-Council, Prof. Charles Uwadia lamented that lack of funds limit the Council's regulatory and accreditation role to ensure there is smooth practice of information technology in Nigeria.
Stephen Awokoya foundation awards scholarships to seven students.
Stephen Oluwole Awokoya Foundation for Science Education (SOAFSE) has awarded scholarships to seven exceptional students from universities across Nigeria to pursue their postgraduate education.
The awardees selected from 151 nominations from 44 universities in Nigeria were presented the award at the 23rd Annual Lecture, Award of Honours and Postgraduate Scholarships at Muson Center, Lagos.
The awardees were: Miss Ayomide Moyib, Miss Patience Abafor, Miss Abisola Oyelere, Mr. Chima-Oge Chukwudi, Miss Inioluwa Adedapo, Miss Mmesoma Mgboko and Miss Abigail Makolo. The award is worth N300, 000 for one year, which is renewable for three years.
Dr, Folarin Awokoya, while administering the awards said: "The Awokoya foundation scholarship is not based on need but excellence in education. It is an award for the best among the best." He urged the awardees, who are all first class graduates of their various universities, not to relent in their studies but continue to be steadfast.
Awokoya said the award was established in 1995 to promote science and science education in Nigeria, adding that the beneficiaries have come from 25 different universities in Nigeria. University of Lagos and University of Nigeria top the list of beneficiaries with nine and eight respectively.
The Chairman, Board of Trustees of the Foundation, Senator Olabiyi Durojaiye described the late Stephen Awokoya as "Ebullient and brilliant teacher of teachers", who had inspired and positively touched the lives of many successful Nigerians.
Senator Durojaiye appealed for more funds to increase the number of beneficiaries every year. "We want to do more. Please help us convince your friends and well-wishers to give us more funds to award more scholarships and equip laboratory."
In her lecture titled: "Consequences of Climate Change in Nigeria: Strategies for Mitigation and Adaptation", Professor Kehinde Olayinka of the department of Chemistry, University of Lagos, said there was need to adopt renewable and nuclear energies to tackle climate change in the country.
The foundation gave award of honours to Dr. (Engr.) GregoryBy Adeola Badru Ero, Chairman, Arkleen Oil and Gas Ltd; Chief Olabintan Famutimi, Chairman, Tricontinental Group and Mrs. Dame Winifred Akpani, Chief Executive Officer, Northwest Petroleum and Gas Company Ltd.