By Egufe Yafugborhi
BUGUMA—THE rich  culture of the Kalabari people of Rivers State was on display, Thursday at the  farewell to late HRH Vincent  Horsfall, Omekwe V, Paramount Ruler of Omekwe Clan, Buguma, Asari-Toru Local Government Area of the state.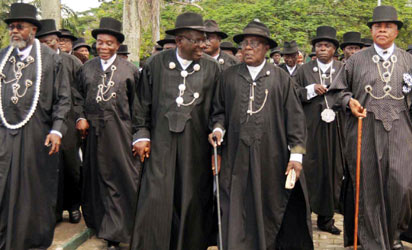 The funeral of the Paramount Ruler and Chairman, Buguma/Kalabari Council of Chiefs, peaked Wednesday with a Boat Regatta through Abonnema Wharf as his remains journeyed from the Military Hospital, Port Harcourt to Buguma City for a commendation service at the African Church Cathedral.
The interment, yesterday, witnessed a spectacle as descendants of Omekwe, Chiefs of the Traditional Council, joined by invited guests were thrilled to dances and other cultural acts by various age grades and cultural societies involved in the Emini, the rites in honour of the traditional ruler.
Prominent leaders among them, Chief Albert Horsfall, in his thoughts on the occasion said, "What you are witnessing is accorded to only two figures in Kalabari, the King, Amayanabo himself and the Paramount Ruler, Omekwe Horsfall."
Summing the torrent of tributes to Omekwe V, said, "He will be remembered as a rare man of peace, a conciliator, very patient, accommodating with capacity to unite the Omekwe group."
Omekwe V, was 5th in line to the stool established by Omekwe, fiery Kalabari admiral of his generation who led the kingdom in wars with its neighbours and always defeated their enemies.