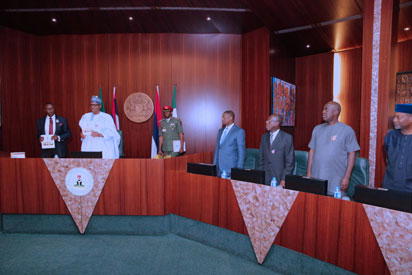 President Muhammadu Buhari supported by the NSA Major General Babagana Monguno and cabinet members during the launch of Nigeria's Policy Framework and National Action Plan for Preventing and Countering Violent Extremism held at the Council Chambers, State House in Abuja.
…Demands retraction, apology to Nigerian youths
By Michael Eboh
Newly-registered political party, Young Progressive Party, YPP, has described President Muhammadu Buhari comments, describing Nigerian youths of wanting to sit down and do nothing, as the 'most unkind' statement ever made about Nigerian youths by any President either living or dead.
In a statement in Abuja, weekend, signed by National Publicity Secretary of the YPP, Comrade Egbeola Martins, the YPP also disclosed that if the president is looking for "'sit and do nothing', mentally lazy and unproductive people, he need not look any further as they are all in his cabinet."
To this end, Martins asked the President to immediately withdraw the statement and tender an unreserved apology to the teeming youths of Nigeria.
"Mr. President should be reminded that his unproductive economic team not too long ago led the nation in and out of recession, helped to multiply poverty, increased inflation and unemployment and only recently presented to the nation a flawed Economic Recovery and Growth Plan (ERGP) that places less premium on human capital development which is the future," Martins noted.
He argued that despite the obvious challenges and harsh socio-economic environment caused by the mis-governance of the country's leaders, Nigerian youths remain the most productive when compared to their counterparts around the world who have far better conducive environment to thrive and maximize their full potentials.
According to him, for a country ranking 152 out of 188 countries in the Human Development Index (HDI), which is a composite statistics for measuring how citizens are fairing in terms of education, per capital income and life expectancy, it is an aberration for a President who in the past three years has done nothing to improve on this rating to be publicly berating same set of people who are only victims of his inaction.
He said, "Also, the statement that 'a lot of our youths haven't been to school and they are claiming that Nigeria is an oil producing country, therefore, they should sit and do nothing and get housing, healthcare, education for free'is hypocritical and an admission of failure from a President who only recently allocated a paltry 7.04 per cent and 3.96 per cent of the 2018 budget to education and health respectively.
"May we remind Mr. President that few months back, these army of 'sit and do nothing' Nigerian youths through their intellectual ingenuity not only attracted the attention of Mark Zuckerberg who is the 5th richest man in the world but also brought him to the shores of Nigeria.
"That singular visit in appreciation of what our youths are doing in area of ICT made him invest over $100 million to help develop our rich youthful human capital, a strategic resource that the APC government has deliberately refused to either identify or invest in.
"It is a very sad commentary when foreigners such as Bill Gates and Mark Zuckerberg who have both invested in excess of $1.6 billion in Nigeria, developing human capital understands, appreciates and believe so much in the enormous potentials of the Nigerian youths far and above their President."
Martins further maintained that if the present APC government cannot add value to the Nigerian youth, they should at least leave the youth where and how they met them rather than further demoralizing, demeaning and insulting us at every given opportunity before the international community.
He said, "May we on behalf of the teeming hardworking, resilient, vibrant and tolerant Nigerian youths tell Mr. President and members of the international community that his opinion is not a true reflection of the character of majority of the very hardworking youths of Nigeria who despite all odds have continued to add value to the nation.
"All Nigerian youth should see this latest unguided statement and many more made in time past as an affront on our collective will, which must be challenged with our Permanent Voters card, PVC, come 2019, by being a part of the Young Progressive Party, a movement that places premium on our rich and youthful human capital resource above all other resources."