• 'For three years, Idanre Constituency paid billions in federal tax but got only N55m to buy Okada'
By Dayo Johnson, Regional Editor, South-West.
Hon. Kayode Akinmade served as Commissioner for Information in Ondo State for about six years under the administration of Dr Olusegun Mimiko. In this interview, Akinmade, also a senior journalist, speaks on some national issues and his aspiration to represent Idanre/Ifedore Federal Constituency at the House of Representatives in the coming elections.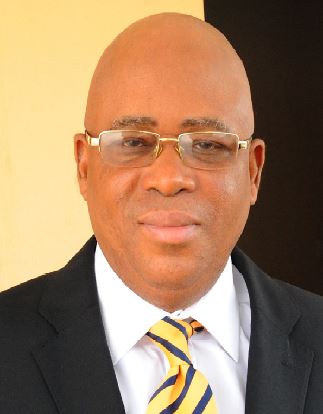 The re-ordering of the 2019 elections' timetable by the National Assembly and the issue of rejection of Peace Corps Bill by President Muhammadu Buhari has pitted the Presidency against the National Assembly. What's your take?
The President by law has the right not to assent to any bill sent to him by the National Assembly. The National Assembly has the right to also override the veto of Mr President when they deem it fit that the bill they passed is in the interest of the public. What I will advise is that, since the party in government is also controlling both chambers (the Speaker, the Senate President are from the same political party), they should find a way of resolving this conflict without creating constitutional crisis for Nigeria. About the last question you asked on the re-ordering of the 2019 elections' timetable, it's also the responsibility of the National Assembly to make laws for the good governance of Nigeria.
What most of us are suffering from is military mentality. We have given all the powers to the executive, and in a situation where the legislature makes law contrary to the executive's desire, we now say 'let's kill them'. But we must also know that in the past when we had military regime, the only arm of government that was dismembered was the legislature. We have to allow the legislature to grow in the interest of Nigeria. The Electoral Act being operated by INEC today was made by the National Assembly. They have the right to amend the Act. We should allow everything to be done in the national interest. In '79, 83', we staggered the elections; National Assembly, governorship and presidential and nobody cried foul. So it's when there is ulterior motive that you resort to all these shenanigans.
One issue that is giving Nigerians headache is the clashes between herdsmen and farmers. And taking a look at what's happening in Benue, what do you think? 
It's a big tragedy. It shows the level of inhumanity in us. A situation where we allow hundreds of people to be killed like goats is unfortunate and unacceptable. A situation where we value cows more than human beings should not be tolerated. And I want to use this opportunity to appeal to the federal government to take a decisive action on the issue. The administration was elected to protect Nigerians. It was not elected to protect cows or herdsmen. That people are killed in their hundreds as a result of clashes between Fulani herdsmen and farmers and our government seems to be doing very little to stop it is disheartening. There is a need for government to take appropriate action in that regard. And the issue of ranching is also important. Government should encourage herdsmen to go into ranching. I'm not of the opinion that government should do ranches for them because that's their own means of livelihood. As a journalist, should I expect government to provide an office for me?
Some bigwigs in your party have moved to other parties. Don't you think this will affect the chances of your party in the 2019 general elections? 
I don't know the people you referred to as bigwigs. But what I can tell you is that even within the major political parties in the country today, people are moving from one camp to another. It is not peculiar to PDP. Some people are moving out of APC too. Even there are some people within the APC as a ruling party who are creating crisis every day. If you look at what is happening at the National Assembly, the Senate President is an APC member, the Speaker, House of Representatives, is an APC member and, unfortunately, there has not been smooth relationship between the legislature and the executive. So are we now saying that because there are crises within the party, the party will not move forward? But at the end of the day, the will of the people will prevail.
Lets go to what's going to happen in Idanre/Ifedore where exactly you are showing interest in the House of Representatives. What are your chances? 
Power belongs to God. I indicated interest based on certain premises. I was fortunate to have served at the National Assembly as Special Adviser on Media and Strategy to then Speaker of the House of Reps. From that vantage position, I was able to understudy the legislature at the national level. I can tell you that in Ondo State, we have not fared well at the National Assembly in terms of representation.
Northerners send their best 11 to the National Assembly, people that can deliver. I was going through the appropriation bills for 2015, 2016 and 2017 and it saddened my heart that in the three years, the only fund that came to Idanre/Ifedore Federal Constituency came in 2015 and that was N55 million. The N55 million was used to purchase motorcycles. They have reduced our people to Okada riders. In a budget of N7 trillion, what Idanre/Ifedore got was just N55 million. It's sad. And we have some federal constituencies that are getting N20 billion, N40 billion. How do they do that? In Idanre/Ifedore, the Federal Inland Revenue Service every year makes more than N2 billion. So what we are contributing to the federation account is far more than what we are getting. This is unacceptable. And that's why we want to come in.
When given the ticket of your party and you eventually win, what will you do differently? 
Anybody that wants to aspire to go to the National Assembly has four responsibilities. The first is to provide quality representation. My people should be rest assured that, with me, they will get quality representation. Quality representation will not come in isolation. It will come as a result of the interpersonal relationship you have built for years among your colleagues where we have 360 members whose consent you will be struggling to get, so that you can bring quality things to your environment. We will take advantage of the relationship we have built in the past, and ensure that we provide quality representation to our people. That's why when members want to introduce themselves at the National Assembly, at the plenary; they will say that my name is Honorable so so and so, representing the good people of so so so.
What that means is that in case any of your constituents has issues with the federal government in terms of appointment, in terms of unfair treatment, it is the duty of your representative to take it up and channel it through the appropriate committees that will look into it and ensure that justice is served. You must be there at all times for your people. The second one is that you must ensure that you make good laws that will cover the people. If you look around, because of the way the federal structure is done, you see so many quarries around. Those operating the quarries got their licences from Abuja. They come here and begin to create ecological problems for us. After breaking those rocks, there is erosion which affects homes. It is the duty of a representative to ensure that laws that will protect his people are made at the National Assembly.
Not only laws on environmental degradation, even laws that will affect marriage and the quality of life of our people. When we get there, God willing, we will be able to contribute to making laws that will affect our people. And more importantly, the third one is to ensure that you participate actively in ensuring that the money appropriated for your people is really worth it. Just like I said, if Idanre/Ifedore is contributing about two billion naira yearly to the Federation Account through the Federal Inland Revenue Service and what we have got in the last four years is N55 million, then there is the need to ask questions.
I can tell you, even in Akure federal constituency, outside of the budget of about N4.7 billion for FUTA, a budget of about N380 million for the college of agriculture, about N340 million for the engineering institute, N377 million for the Federal Government Girls College, in the last three years, they did not get anything apart from the N55 million that was divided between Akure North and Akure South to buy motorcycles. It's unfortunate. Where are our roads? The Federal Government is building roads in some federal constituencies. I was reading in the newspaper recently where the Osun State government was thanking the Federal Government for constructing about N7.6 billion worth of roads in a federal constituency there.
Where is our own? There is the need for us to ask questions. The people representing us are the ones to ask questions. God willing, if I have the opportunity, I will ask questions and I will get what rightly belongs to our people for them. I will give them a sense of belonging. The last one is oversight functions. After you might have appropriated money, there is a need for you to also follow up on the money. When I was at the National Assembly working with the Speaker, we developed this saying, 'We must follow the money'. Following the money means that you must go to all ministries and parastatals where money has been appropriated and ask questions.
Who got what? And what's the level of work done at that particular site? You must visit the site and get it done. And if the money is not spent, the money must be returned to the treasury. I can tell you without mincing words, in 2007 when we were there, the National Assembly got back over N450 billion unspent funds. I don't think they have been able to get any other money since the administration of Rt. Hon. Dimeji Bankole left office. Where are our unspent funds? We must ask questions. And I believe that with the knowledge and experience I got in Ondo State and the one I had in Abuja at the National Assembly and as a media practitioner, I will work well for my people.
What is your message for the people of your constituency?
My advice to our people is, one, to pray for a new dawn. We want a new beginning. We want to change the status quo, we want to change from arm chair representative to a more vibrant and more proactive representation. And I want to assure our people that if given the opportunity, I will not let them down.