Bollywood superstar Salman Khan secured a get-out-of-jail ticket on Saturday so he can contest a five-year prison sentence for killing endangered wildlife two decades ago.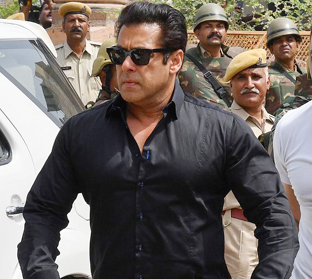 After spending two nights in Jodhpur Central Jail, Khan, one of the world's highest-paid actors, was given bail by a court in the city in Rajasthan state.
He was found guilty on Thursday of killing rare antelopes known as black bucks on a hunting trip while shooting a movie in 1998.
A judge signed off Khan's bail on a bond of 50,000 rupees ($770), his defence team said. Khan cannot leave the country without court permission.
The 52-year-old action movie star should be able to leave the prison before the end of the day.
Prosecution lawyer Mahipal Bishnoi told reporters that Khan must appear in court again on May 7.
The actor — affectionately called "bhai", or "brother" in Hindi — enjoys a cult-like status.
Hordes of fans waiting outside the court on Saturday burst into celebrations after hearing the result, beating drums and chanting Khan's name.
Television footage showed swelling crowds — many emulating Khan's distinctive hairstyle and clothes — outside his luxury apartment in Mumbai, dancing to songs from his films.
– Relief and anger –
But animal rights group PETA said it was disappointed with Khan's bail.
"While Salman Khan gets to go back home to his movie star life for now, black bucks were made to pay the highest price, with their lives," Manilal Valliyate, chief executive of PETA India, said in a statement.
The brawny actor, called Prisoner 106 in jail, had reportedly been skipping his no-frills prison meals but not his workout sessions. The Times of India newspaper reported that he spent three hours exercising Friday.
Khan has accused Rajasthan's forest department of trying to frame him. His lawyers claim the black bucks died of natural causes such as overeating, insisting there was no evidence they were shot.
Four other Bollywood stars — Saif Ali Khan, Sonali Bendre, Tabu and Neelam Kothari — who were also accused in the case were acquitted due to lack of evidence.
Khan remains one of Bollywood's biggest draws despite his off-screen drama, starring in more than 100 films and television shows.
He finished second behind Shah Rukh Khan in the 2017 Bollywood earnings rankings. Both the Khans are among the top 10 most highly paid actors in the world.
The Bollywood heartthrob's latest blockbuster "Tiger Zinda Hai" (Tiger is alive) collected some $85 million worldwide.
Khan has nearly $90 million riding on his projects in coming months with at least three films in the pipeline, analysts say.
A director of one of Khan's upcoming films "Race 3" expressed relief at his release.
"I am happy that he has got bail. After working with him so closely I have become a huge fan of him not only as an actor but also as a human being," Remo D'Souza told the Press Trust of India.
"Almost 90 percent of the shoot for (the film) is over and the remaining portions will mostly be shot in India."