By Peter Okutu
ABAKALIKI-THE Secretary to Ebonyi State Government and Professor of Geophysics, Benard Ifeanyi Odoh, Monday, resigned his appointment from the cabinet of Governor David Umahi of Ebonyi State.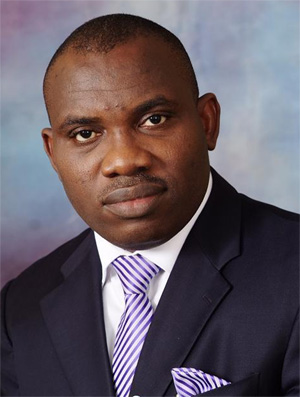 The former SSG who was appointed on 29th May, 2015 explained that some operational policies and ideologies of the present administration was what led to his resignation.
According to him: "My appointment as the secretary to the State government is hereby resigned in good faith. I have handed over the status of the affair of Cabinet office to the most senior staff of cabinet office, barrister Ogbonnaya Otta in line with best practices of service.
"In conclusion, I am fully aware of the consequence of my action knowing full well that you will go after me, my immediate family, friends and those who served with me in line with your principles of "crushing and grinding" whoever that differ with your ideologies and aspirations as has been demonstrated in recent times, but be assured that the will of God would always prevail in all situation and circumstance. What is ahead of us is more important than what is behind us."
In a well detailed letter, the former SSG further stated that the atmosphere within the cabinet of the present administration would not allow him and other members of EXCO to discharge their duties optimally.
"That I have reviewed my current stand in your administration and I feel strongly convinced that the convivial atmosphere required for peak performance of team members is lost with emphasis to the shenanigan orchestrated against me by overzealous EXCO members at Executive Council meeting of 28th March 2018. To remain in your administration in the present circumstances will amount to deceitfulness on my part as my capacity to contribute have plummeted because of the above stated.
"The way our administration has been run in the past two years has not offered conducive atmosphere for members of Executive Council and myself inclusive to sincerely air contrary views on matters in EXCO were instantly perceived as not supporting the administration. Because of this, majority of council members resorted to praise singing and dramatization of council procedures in other to guarantee their daily bread. Subservience doesn't equate genuine followership.
"In my opinion, this is the highest level of hypocrisy and the values I live doesn't not allow me to operate in such deceptive atmosphere where people live opposite of what /who they are."
However, investigation from the grape vine revealed that the SSG's resignation and uncomplimentary remarks about the Governor was connected to his yet to be publicized ambition of contesting Ebonyi Central senatorial zone election in 2019 which is currently being occupied by Senator Obinna Ogba.