By Rotimi Ojomoyela
Ado-Ekiti-The Court of Appeal sitting in Ado-Ekiti on Thursday upturned the judgment of the Federal High Court which unfrozen Governor Ayo Fayose's two accounts at Zenith Bank.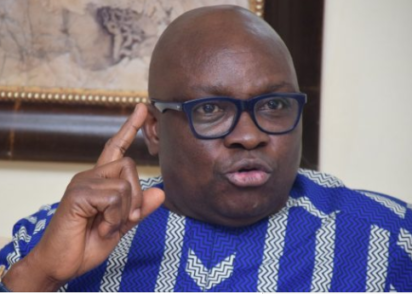 The three-man panel led by Justice Joseph Ikyegh allowed the appeal filed by the Economic and Financial Crimes Commission (EFCC) against Fayose's victory at the Federal High Court, Ado Ekiti.
In a suit number, CA/EK/8/2017, the EFCC had urged the Appellant court to set aside the judgment delivered by Justice Taiwo Taiwo of the Federal High Court Ado-Ekiti.
The panel held that the EFCC in its brief of appeal had convinced it that the accounts were used to keep funds suspected to be proceeds of crime.
It would recalled that on December 13, 2016, Justice Taiwo Taiwo of the Federal High Court, Ado Ekiti had ordered the EFCC to immediately unfreeze the accounts of the governor, saying the action of the EFCC was against due process and that the anti-graft agency did not follow the laid down regulations in freezing the governor's accounts.
EFCC had appealed the judgment of the Federal High Court and sought an injunction, restraining the governor from operating the accounts pending the determination of the appeal but the appeal was dismissed by the
Appeal Court, in a unanimous ruling delivered by Justice Fatima Omoro Akinbami, on the ground that EFCC did not attach notice of appeal and the ruling of Federal High Court Ado Ekiti.
The court also said that the alleged damning intelligent report by the EFCC, which it claimed to have received concerning money purportedly paid into Governor Fayose's account by Senator Musiliu Obanikoro was not provided nor attached for the court to see.
But at Thursday's hearing at the Appeal Court, the EFCC in its brief argued that Fayose is a citizen of Nigeria and his accounts could be frozen if they are found to be used to hold proceeds of crime.
The Commission contended that the immunity enjoyed by the governor does not preclude his account from being frozen.
The Appeal Court allowed the appeal and held that Fayose's accounts which were unblocked by the Federal High Court be frozen.
According to Justice Ikyegh, "In the final analysis, I find the appeal meritorious and having resolve all three issues agitated in the appeal in appellate's favour ,I allow the appeal and hereby set aside the judgement delivered by Taiwo J of the Federal High Court, Ekiti Judicial Division on 13/12/2016 granting the claims of the 1st respondent in suit FHC/AD/CS/27/2017″
On Monday, the EFCC had filed an application before the court to adduce fresh evidence but the court turned down the motion.
The briefs of the parties in the appeal, the EFCC (the appellant) and Fayose (1st Respondent) and Zenith Bank (2nd Respondent) were adopted with the court adjourning to Thursday for judgment.
Subscribe for latest Videos