OWERRI—THE All  Progressives Congress, APC, Restoration Coalition in Imo State, yesterday, gave Governor Rochas Okorocha, a 21-day ultimatum, to discontinue his support for his son-in-law, Mr. Uche Nwosu, to be the next governor of the state.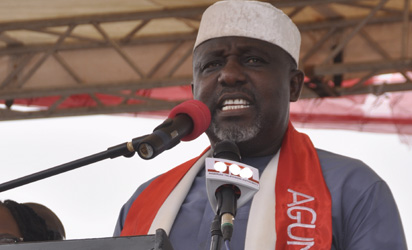 The group spoke through its leader, Mr Theodore Ekechi, after a meeting in Ehime Mbano Local Government Area of the state.
The group also threatened to begin a recall process of the Imo lawmakers who endorsed Nwosu.
This was as Governor Rochas Okorocha's Chief Press Secretary, Mr Sam Onwuemeodo  said there is no coalition in Imo APC. He also   said none of the contenders for the APC ticket and aspirants from other parties can defeat Nwosu in 2019.
APC Restoration Coalition leader, Ekechi, who is the former Commissioner for Information under Okorocha, said: "We call on Governor Rochas Okorocha to withdraw, stop, as well as redress all manner of blackmail, muzzling, intimidation, harassments and threats to life currently being used on our members and other dissenting persons and groups in various forms and capacities.
"He should also rescind his desperate sponsorship of his son-in-law as governorship aspirant, a project which in our modest estimation has gulped billions of naira.
"If the governor and his agents fail to heed our ultimatum, we shall take him up on accountability challenge and that includes : to henceforth inscribe the governor's name, image and entire identity in our well-meaning fight to stop Nwosu's 2019 governorship ambition; to take all legal means to demand account for the finances of the state namely: monthly allocations for seven years; LGA allocations for seven years;   ISOPADEC 13 per cent derivation funds for seven years; 2015 bailout funds and Paris Club refunds (twice).
"We shall start a recall process of some Imo State House of Assembly members, including the Speaker who without consultations with their constituencies, went against the wishes of their constituents to join the shameless leprous endorsements saga.
"Finally, we are calling on the state security agents notably the police, DSS as well as human rights groups, to be  at alert as the harassment of our members means that our blood is on Governor Okorocha's hand!"
However, in his reaction, Okorocha's spokesman, Onwuemeodo said: "There is nothing like coalition in Imo APC. There is only one APC in the state with Governor Rochas Okorocha as the leader.
"This so-called coalition people in APC were not there when Governor Okorocha became part of the merger that gave birth to APC and delivered the state to the party. These are 'food is ready'  politicians.
"None of them won his booth in the last elections. They are at best, attention-seeking, little-minded politicians paid to disturb the peace of APC in the state.
"And for their information, Uche Nwosu will win the ticket of the party and win the election proper in 2019.
"If the coalition has the capacity, let them file behind a candidate and let's see how far they can go. Why are they bothered about Uche Nwosu's aspiration?
"Their problem is that, of all the aspirants in APC and other parties in the state, none can defeat Uche Nwosu. That is their headache."