By Johnbosco Agbakwuru
ABUJA – WIFE of the President, Mrs Aisha Muhammadu Buhari has dedicated Vanguard Personality of the Year Award given to her by the Vanguard Media limited to the people of Nigeria especially the women.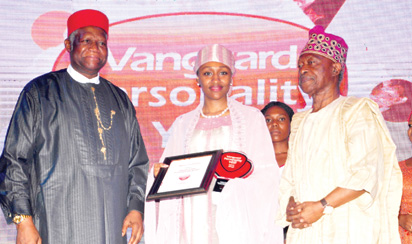 The First Lady was recognised with the award by Vanguard Media on Saturday because of her efforts towards ensuring good health for women and children and her firmness in ensuring justice and equity.
Mrs Buhari in her message after the award said that the award came to her unexpectedly and that Nigerians voted for her husband President Muhammadu Buhari because of the trust they have on him and that the government will continue to make sure that the trust was not taken for granted.
She also explained that her vocal posture to the powers that be never translated being confrontational to the government she was part of, rather to ensure that right things were done for the benefit of the citizenry.
She further said that she remained firmly with her husband in the effort to make the country better.
The First Lady in her message said, "I wish to thank the management of Vanguard Media Limited for this unexpected award, in recognition of my humanitarian efforts towards improving the health and welfare of Nigerians particularly women, children and less privileged.
"One of the reasons adduced for honouring me was the interview I granted which some people saw as criticism to a government that I am part of. I need to state that my position was a result of my sense of justice and not confrontation or disrespect. I was brought up to stand by the truth and this is how I have always been.
"As we are all aware, Nigerians elected this administration based on the trust and confidence they have on my husband; I therefore feel that we are here to serve Nigeria to the best of our ability. Let me use this opportunity to state that I support my husband in this call to service and will continue to do so.
"On this note, I hereby dedicate this award to the people of Nigeria, especially women."