By Prisca Sam-Duru
The Lagos Resource Centre hall, venue of the launch of Deafening Silence by Stephanie Chizoba Odili was filled to capacity, with guests mostly students from Covenant University.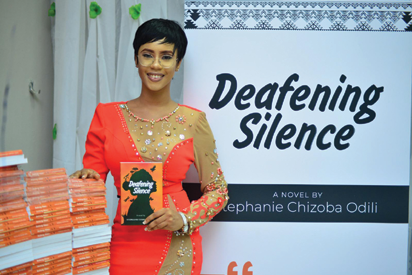 Secondary school mates as well as relatives of the author were also in attendance to show their love and support for the young writer.
The cash donations and pledges that came from the youth-dominated audience were overwhelming and an indication that the young ones are gradually heeding the call to improve on their reading culture.
Deafening Silence, a fictional work, offers a peep into, among many other issues, the everyday British community and culture in relation to Nigeria's. The book also presents an objective tale of the Nigerian Civil War from the recall of some individuals who experienced it while at the same time highlighting aspects of Nigeria and African culture, language and history.
The author, an alumna of Covenant University, Nigeria, born in London in 1996, spoke shortly after the launch. "Although I was born in London, I will always choose Nigeria any day, anytime. I know that we are not the best. We are not perfect, but it is our responsibility to see to Nigeria's greatness," said Stephanie. "I was inspired to write this book, to share my Nigerian story as it is. Nigerians are a people of dignity and should be united to move the country forward. My intention is to rally the youths together to achieve the Nigerian dream. So I'm inspired because I love my country."
Stephanie believes totally in the power of books, which according to her, informs her reason to employ writing as a medium to express her unwavering love for Nigeria.
"Writing a book for me is beautiful. When you write a book, conversations start. People begin to discuss about issues covered by the book. As you can see, conversations have already started and we must continue to discuss Nigeria because she is our business. And that way, we will come up with solutions to our challenges," She said.
The author's father, Mr Odili, who commended his daughter for a job well-done, told guests that the happiest day of his life was when Stephanie was born. "My mother-in-law named her Ezinwa (good child) and that name has been following her."
Stephanie started writing when she was 7. Two years ago, she declared her intension to do her intern and make her own money but I refused and insisted she sat down to write.
She obeyed and when she finished writing, the pages were too many but thanks to Jamiu Abiola whose help saw to the publishing of the book. With Deafening Silence, Stephanie is on her way to greatness as guests will carry content of the book to nooks and crannies of the world.
Subscribe for latest Videos