By Omeiza Ajayi
Hate Speech—A cross-  section of elder statesmen and civil society actors have expressed concerns over what they described as the nation's gradual descent into chaos fearing that if the trend was not halted, it could spell doom for the nation and its electoral process.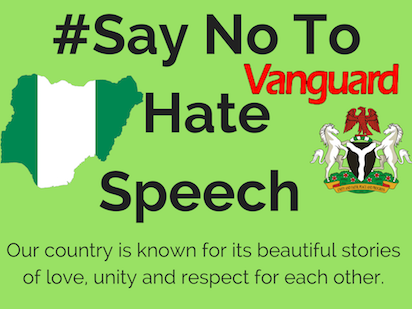 According to them, the elites have conspired to institutionalise the culture of hate in Nigeria "and so we must get them to also de-escalate the growing resort to careless utterances and violence."
Those who shared these views included the Catholic Archbisjop of Abuja, John Cardinal Onaiyekan; former Nigeria's Permanent Representative to the United Nations, Professor Ibrahim Gambari; former Chairman, Independent National Electoral Commission INEC, Professor Attahiru Jega and a Senior Fellow at the Centre for Democracy and Development, Professor Jibrin Ibrahim.
Others were Amb. Fatima Balla, Dr. Hussaini Abdu, Dr. Ibrahim Yakubu Lame, Auwal Musa Rafsanjani, Dr. Chukwuemeka Eze, Dr. Chris Kwaja, Ms. Idayat Hassan, Mallam Y. Z. Ya'u, Yakubu Aliyu, Dr. Kole Shettima and Dr. Usman Bugaje.
They spoke in Abuja at a conference on arresting the drift towards chaos in Nigeria, organized by the Working Group on Peace Building and Good Governance, the Civil Society Legislative Advocacy Centre CISLAC, Centre for Democracy and Development CDD and the West African Network for Peace, WANEP.
"The major outcome of the crisis facing the country has been the erosion of public trust. A toxic atmosphere has developed in which different actors are suspected of developing plots to destroy others. Action of whatever type by governments and private institutions are no longer taken at face value but are re-interpreted within narratives of coordinated plots by some groups to destroy or eliminate others or to take their land. Lately, poor or non-responses by governments to unfolding events have further eroded public trust. The role that the security forces play in resolving our problems is extremely important. There are concerns that in their deployments around the country, they are not always neutral in their attempts to address our numerous security challenges and this has been one of the factors leading to the erosion of public trust", said Prof. Jibrin Ibrahim, who read a prepared speech on behalf of the participants at a post-event news conference.
The participants also noted that: "The current tension in the country is being further inflamed by hate and dangerous speeches in the Nigerian conversational space. The social media is suffused with hateful content that is threatening to throw the country further into the orgy of on-going violence. Hate speech is not limited to social media. It is being openly broadcast on radio and TV programmes and to a limited extent in newspapers.''
In his opening remarks, Prof. Jega spoke about the dangers of the politics of brinkmanship played by the political class, and which is capable of dragging Nigeria over the edge.
He drew attention to the lack of enlightened self-interest within the political class and castigated the deplorable culture of do or die politics.
In his message, John Cardinal Onaiyekan called on Nigerians to be aware of the high number of fake news and images circulating, which are designed to sow the seeds of discord in society.
He appealed for more critical reflection "before we believe what is placed before us and cautioned that we should not be active participants in creating distrust and unrest in our society."
In his keynote address to the Conference, Prof. Ibrahim Gambari drew attention to the fact that Nigeria is facing an unprecedented existential crisis and there is an urgent need to stop the drift towards chaos.
One element of the crisis he drew attention to is ''the spread of the culture of violence. The Boko Haram insurgency has persisted for a decade and although progress has been made towards containing it, it remains a major problem with over 30,000 people killed and millions displaced. The Niger Delta remains marked by militancy and economic sabotage."
In more recent years, a crisis of pastoralism has developed and deepened leading to violence and mass atrocities in most states in the country as herdsmen and farmers clash.''
"Communal clashes are also spreading and the religious arena has become a major bone of contention for organisations such as the Islamic Movement in Nigeria, which has been engaged in regular clashes with the State and security agencies", the statement added.