By Prisca Sam-Duru
A total of eighty-nine (89) playwrights are competing for the 2018 edition of the Nigeria LNG Limited-sponsored Nigeria Prize for Literature which focuses on Drama.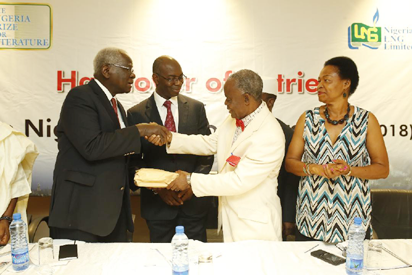 The disclosure was made by the Company at a formal ceremony in Lagos to hand-over the entries to the Advisory Board of the Prize. The hand-over of the entries to the Advisory Board, chaired by Professor Emeritus Ayo Banjo, signifies the beginning of the judging process which will culminate in the  announcement of the winner in October  Handing over the entries, NLNG's Deputy Managing Director, Sadeeq Mai-Bornu,  represented by Acting Manager, Community Relations, Godson Dienye, said  stakeholders need to rally around the prize to make sure it is sustainable and takes its  rightful place in the rank of literary prizes in the world.
"We have received 89 entries this year; lower than what we had in 2014 when drama  was also in focus. We must change this trend. All stakeholders must begin to own the prize as theirs and push it to greater heights. We also received two entries for the Literary Criticism Award competition which unfortunately appears not to attract many entries. I consider this as a huge gap in Nigeria's Literacy space. "To the judges, I urge you to demonstrate your usual proficiency in administering and  adjudicating the process, knowing that the world is earnestly waiting for your announcement of another legendary work," he remarked.
The entries, which came in response to a call for entry published in the national dailies  in February 2018, will be examined on their merits of excellence in language, creativity and book quality. The entries were handed over to the panel of judges led by Professor  Matthew Umukoro,  a professor of Theatre Arts at the University of Ibadan. Other members include Professor Mohammed Inuwa Buratai, a Professor of Theatre and Performing Arts and the Dean of the Faculty of Arts at the Ahmadu Bello University, (ABU), Zaria; and Dr. Mrs Ngozi Udengwu, a Senior Lecturer in the Department of  Theatre and Film Studies at the University of Nigeria, Nsukka.
This year's award will run concurrently with NLNG's Prize for Literary Criticism for which only two entries were received for this year's competition.
Members of the Advisory Board for the Literature Prize, besides Professor Banjo, two-time Vice-Chancellor of Nigeria's premier university, University of Ibadan, are Prof. Jerry Agada, former Minister of State for Education, former President of the Association of Nigerian Authors, and Professor Emeritus Ben Elugbe, former President of the Nigerian Academy of Letters and president of the West-African Linguistic Society (2004-2013).
The Nigeria Prize for Literature has since 2004 rewarded eminent writers such as IkeoguOke (2017, Poetry) with The Heresiad; Abubakar Adam Ibrahim (2016, Prose) with Season of Crimson Blossoms; Sam Ukala (2014; Drama) with Iredi War; TadeIpadeola (2013; Poetry) with his collection of poems, Sahara Testaments; Chika Unigwe (2012 – prose), with her novel, On Black Sister's Street; as well as Adeleke Adeyemi (2011, children's literature) with his book, The Missing Clock.
Others are EsiabaIrobi (2010, Drama) who clinched the prize posthumously with his book, Cemetery Road; KaineAgary (2008, Prose) with Yellow Yellow; Mabel Segun (co-winner, 2007, Children's Literature) for her collection of short plays, Reader's Theatre; Professor Akachi Adimora-Ezeigbo (co-winner, 2007, Children's Literature) with her book, My Cousin Sammy; Ahmed Yerima (2006, Drama) for his classic, Hard Ground; and Gabriel Okara (co-winner, 2005, Poetry), Professor Ezenwa Ohaeto (co-winner, 2005, Poetry).
The Nigeria Prize for Literature,one of Nigeria LNG Limited's numerous contributions towards building a better Nigeria, is Africa's most prestigious literary award with a cash reward of $100,000. It rotates yearly amongst four literary categories of Prose fiction, Poetry, Drama and Children's Literature.