By Chidi Nkwopara & Chinonso Alozie
OWERRI—As politicking deepens in Imo State ahead of the 2019 gubernatorial polls, Governor Rochas Okorocha yesterday said he has released N1billion for road construction in the  deputy governor's local government area, Mbaitioli.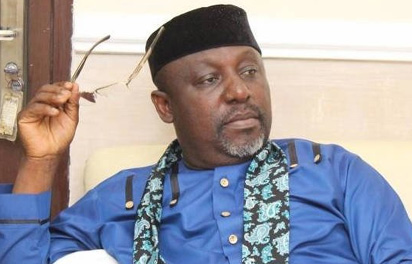 The move may have been calculated to help Okorocha clinch the approval of Madumere's kinsmen for his son-in-law, Uche Nwosu, who he is supporting for the governorship ticket of the All Progressives Congress, APC and to weaken Madumere's chances  of winning the support of his people, as the deputy governor also seeks to become the next governor under the same party.
Okorocha made this known to newsmen in Owerri, through his Chief Press Secretary, Mr. Sam Onwuemeodo.
According to the release, a committee has been set up headed by the    the Head of Service, Mr. Calistus Ekenze  to achieve this purpose.
The release stated: "The governor, Owelle Rochas Okorocha has inaugurated a 7-member Special Taskforce on Roads and Infrastructure for Mbaitoli local government. The local government is where the Deputy-Governor,Prince Eze Madumere comes from.
"Members of the taskforce included the Head of Service, Mr. Calistus Ekenze who is the chairman and Barr. Chinyere Uwandu who would serve as secretary.
"Others are: Mr. Daniel Nwafor, Chief Ugochukwu Onwusereaka, Barr. Chuks Opara, Mr. Sunny Onuamegbu and Barr. Dan Iwuorie.
"Inaugurating the taskforce at the Government House, Tuesday, the governor also announced the release of N1billion to the taskforce, to that effect."
We collected only N60,000 from taxi operators
In another development, the Imo State government, yesterday said taxi operators in the state, paid 60,000 and not 110,000 for branding of their vehicles.
The Commissioner for Transport, Lasbery Okaforanyawu, disclosed this to   newsmen in Owerri.
This is coming after several protests by commercial taxi drivers in the state, that they were forced by some government officials to pay 110,000 just to paint their vehicles in government approved colour.
But according to Anyanwu, the N60,000 being collected was not only for painting of vehicles but also for installation of a tracker in the vehicles as well as registeration.
The commissioner said: "It is not true that we are collecting N110,000. You can go and ask people who have painted their vehicles. What we are collecting is N60,000 only.
"The money included putting a tracker in their vehicles, painting and registeration which is a total of N60,000.
"Let me tell you, what we are doing is in the interest of Imo people and Imo people will enjoy it in the long run.
"We want a situation for instance, where when there is a report of a crime committed with any of these vehicles, we can track them easily."
Angry reactions trail Okorocha's hate speech
Meanwhile, angry reactions have started trailing the alleged hate speech uttered by Governor Rochas Okorocha when he received Ideato North people at Government House, Owerri.
Taking an exception to the governor's alleged tirade against his family, a social crusader and member of the Njemanze dynasty, Prince Bob Kay Njemanze, advised the governor to desist from his hate speech against his family.
Njemanze also cautioned against what he termed Okorocha's avowed determination to destroy Owerri and all her heritage sites, culture and tradition.
"His fear of a well rooted tradition, either in government or traditionally, is understandable. He has become paranoid with accomplished names  while at the same time, struggling in vain to establish a never-will-exist Okorocha dynasty as his legacy.
"The governor has just one more  May 29, to effectively perform as the most destructive emperor in the history of governance in Owerri. Thank God, History has been restored in schools and the story of the traducers will be told along side, for comparison," Njemanze said.
Subscribe for latest Videos