Speaks on his affair with ex-gov Uduaghan; Why Deltans should not consent to Okowa continuing PDP profligacy
Emma Amaize, Regional Editor, South-South
ALL  Progressives Congress, APC, governorship hopeful in Delta State, Prof Patrick Utomi, has said that the decision to bring to an end or allow the Ibori political dynasty, a powerful assemblage in the oil-rich state headed by a former governor, Chief James Ibori, will be taken by Deltans and not him in 2019.
Utomi, who spoke to Saturday Vanguard in Asaba, stated that his affair with Ibori's successor, Dr. Emmanuel Uduaghan, was fueled by rumour mongers, who exaggerated his comments on debt overhang    in states of the country, but he insisted that there was pressing need to wrest power from Governor Ifeanyi Okowa to return Delta to the right direction.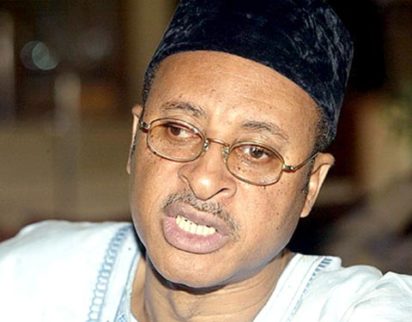 His words: "What should be the concern is the well being of people, I would like us, in building Delta, to have a coalition that is not too sensitive to political parties, but sensitive to Delta, the need to rescue it and ordinary people, particularly, escaping the blight into which they have been cast."
Answering a question on if he (Utomi) could terminate or end the influence of the Ibori political family, which has produced three consecutive governors of the state, he rejoined: "I do not think Pat Utomi would do anything to terminate or encourage anything."
"The people of Delta should be able to say to themselves, are we better off the way we are? That is what determines election in America. In America, the typical mantra is, are you better than you were four years ago," he indicated.
In his opinion, "All Deltans need to do is to drive across the board and whatever direction they face. . . Let us say that they face Edo, which was part of defunct Bendel state before the split in 1991, they should ask themselves what is the difference between Delta and Edo states today. If they also face east, across the Niger, and look at Anambra, they should ask and find out what is the difference."
"What is particularly interesting is that the two states receive about a seventh of what Delta receives from the Federation Accounts.    Recently, I gave a lecture to entrepreneurial leaders from the South-South at Port Harcourt organized by the American Embassy and Consulate in Lagos and after it, I drove to a funeral at Igbo-Ukwu area of Anambra state, I came in from Ihiala, Awka-Etiti, all those areas, and a Deltan who was in the car with me kept screaming about the rural roads without potholes in Anambra that we drove on.
"That is the truth about our reality, which those two states are receiving about seventh of what we receive in Delta and are by far in better shape than Delta. If Deltans prefer that and want it (Ibori dynasty) to continue, that is their choice. I mean, they cannot complain that they do not have a choice," he said.
The intellectual added: "A friend of mine, who is a federal minister, told me not too long ago that democracy in Nigeria is a farce.    It is not Nigerian problem; it is actually scholarship that has developed around the fact that there is a difference between participation and representation. Our democracy, quote and unquote allows people who are not supposed to lead them to represent them, that is why you can talk about a dynasty."
He noted: "Politics takes away their opportunity for representation but it allows participation. If we are going to change this democracy, we must change this position and one of the ways I propose that we must change it is for instance to enshrine that anybody seeking political office must have at least 10 opportunities to debate with his opponent in some school compounds, on television, organized debates and let us know what the person stands for, what you have done before, bringing to the table and exactly what you plan to achieve with the resources available during the period you will serve."
Udaughan misled by rumor mongers
On why he turned a critic of ex-governor Uduaghan when he was out of power, while mum was his word when he was in office, the APC chieftain declared "That statement is untrue and incorrect. First of all, I think that there are things that are not properly understood. Uduaghan as governor came to me from time to time just like any other person who has been governor in Delta. People forget that when Chief James Ibori was governor, I gave the very first lecture to mark the anniversary of return to democracy in his first year at the Petroleum Training Institute, PTI, Effurun, near Warri. That was the day that the usage of the term, Resource Control, crystallized into public consciousness, May 20, 2000."
"I did everything to support the government because I do not care about parties, I do not care about who is governor or not governor. Unfortunately, some things went wrong with the initiatives that I tried to start based on the funny politics of our state.
"When Uduaghan became governor, he was unhappy that those things happened and it led to a very warm, friendly relationship between the two of us. After he became governor, I never said anything good or bad about him. Unfortunately, he was misled by some people after I gave a talk at Agbarha-Otor on debt overhang in states. I was not even particular about Delta; I was talking about overhang in the states of the country.
"I think one of these gossips went to gossip to him that I said he left a big debt in the state, which was totally incorrect. I never said any such thing and he, in the moment of that misadvise, said some unkind things about me.    So I decided to set the record straight and I once put the record straight, I walked away from the subject. I have not said anything about him anymore," he said.
Why wont   other Delta North APC governorship aspirants allow Okowa to complete the district's   8-year tenure before power rotates again to Delta Central? Saturday Vanguard asked
He said: "I guess you have to begin with what I stand for in life, why I do anything that I do. I am not one of those people who make office seeking a way of life. I think of politics as a platform for citizens to interact and how best to create a better society and that a citizen's involvement entails a number of basic rules that facilitate being able to build consensus for progress."
"If you watch my politics, quote and unquote, it has been basically opposition politics since the beginning of our politics. Not because I would not have walked in into the mainstream. When former President Olusegun Obasanjo was preparing to run for presidency, he had an advisory team, I was the head of that advisory team, so I would very easily had stepped into the Obasanjo government but my fundamental interest is in institution building.   If you follow me as an academic, you will find that almost all my works are on institution and economic performance.
"So a very important institution to build is the institution of representative democracy in which there is possibility of changing government so that the culture develops. That is the fundamental reason   I am playing opposition politics, not for my sake, not against who are there but because it is an important institutional arrangement to build," he informed.
Social parasites
The academic added: "If you have also followed me over the years, from Patito's Gang and all the rest, I have often said that part of the reason   we are not making progress in Nigeria is that too often, people who take on politics as a way of life run the risk of being disconnected from the people because they have not had the opportunity to learn. In fact, I am sure that you probably would have heard me say several times that anybody who is in public office for 12 straight years is a social parasite, whether elected or appointed. You move from commissioner to governor, from governor to senator, you do not lead people, you are living in a glass house, ivory tower and disconnected from the people."
His words: "We must find a way of changing such things, so given this, you can gauge my involvement. When this season was starting, the last thing close to my mind was running for anything. After 2015, I had enough of a sense of unhappiness about the Nigerian political process that I thought I was going to be 60, so that is retirement.    I am just going to move away from public life, but there is one purpose for me for being a human being and that is impact. How does my life impact the life of other people for good? What God will judge me on when I stand in front of him? What history will judge me by when it is written?"
Why I am in the race    Continuing, he said: "And at that time I was beginning to make a number of decisions that I believe will have substantial legacy inducing impacts and even distance myself from public arena, but then came a flurry of very decent people, who said to me that my state was in a complete mess. What kind of conscience do you have? That you want to walk away from it means all these things you have been preaching are just talks."
"I tried to dismiss them politely but they persisted, groups that got to me are not even people from Delta North, groups from Delta Central, some old boys of Government College, Ughelli. I think they had a meeting, their usual meeting, they were discussing Delta and they talked about leadership and began to say what they could do.
"In the end, they zeroed on me but they did not have access to me and started inquiring how they could get me. So one of their schoolmates, who they figured would know me, he is not even from Delta, he is from Edo state, they went to him and he called one of my friends and eventually they came to my office.
"I told them my mind and they said we all are going into this together, that history will judge you and us unkindly if we do not make this effort. I said I want to sleep on it,    but before then,    I had communicated to my closest friends and family that I was out of political life, that I have contributed my quota and it was left for the younger generation to build on the things I had tried to do, which is to make a difference in the world.
At Delta APC guber aspirants get-together
"I do not know if you are aware, there was a meeting of all governorship aspirants from Delta North hosted by the Minister of State for Petroleum, Dr. Ibe Kachikwu, during the Easter and one of the aspirants confessed that he was one of those that came to meet me to ask why I should allow our state to fall into the kind of situation it is today. That whatever it is we will do, but one thing is that the state will celebrate and world will cheer if we can announce that you are our governor.
"So this was how consideration of this whole process began to come to my consciousness as complete and total sacrifice. For me, the issue of governor is not about pride, it is about if it would provide me the opportunity to impact lives," he asserted.
APC is somewhat buffeted by crisis in the state, do you see it as a strong platform to achieve your ambition, we probed further, the aspirant acknowledged: "One of the challenges of modern democracy is that it throws up a number of things, including you must come from this party or that party."
He, however, said: "And I can also tell you that one of the biggest problems I have about the way of things in Nigeria is extreme partisanship that has evolved in our democracy. You see Republic presidents in USA picking democrats in their cabinets because they are considered weak in social issues, you see a democrat filling the gap and also Democratic presidents picking a Republican as Defence Secretary because democrats are considered soft on defence and stuff like that. Forget the current state of things in Amerca because we also see Republicans, who are very upset with President Donald Trump, resigning, refusing to seek election and all sorts of things."
My chances
I do not think that it is my place to begin to talk about that, the many people who came to me to join the race are very confident that they can make it happen. So it is about plebiscite, referendum, what people say. It is the people that would say not me and there is nobody right now in Delta seeking the position of governor whose track records can compare with mine or whose capacity to understand where the world is going can compare with mine. It is not a boast but honest and factual statement.
Subscribe for latest Videos