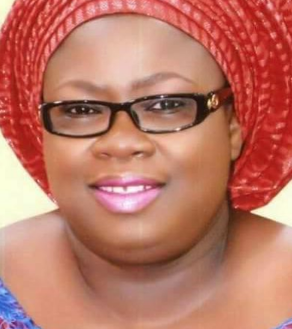 Nkechi Ikpeazu
Umuahia – Tragedy struck on Tuesday in Abia, when two women died in an auto crash involving the motorcade bearing the wife of Abia Governor, Mrs Nkechi Ikpeazu.
One of the dead women was identified as Mrs Promise Uche-Nwamkpa, wife of a former member of the Abia state House of Assembly. The second woman was Mrs Nwamaka Maduchukwu, a senior special assistant on media to Mrs. Ikpeazu.
The accident occurred when the motorcade was returning to Umuahia from Ntigha-Uzor in Obingwa Local Government Area of Abia, where Ikpeazu had attended a burial.
Witnesses said that the Hummer carrying the deceased somersaulted thrice, when the driver attempted to overtake a vehicle at Ndiolumbe around 5 p.m.
A female occupant of the vehicle, who escaped unhurt, told NAN that the driver was on high speed when the accident occurred.
"The driver was on high speed and everybody in the vehicle was asking him to slow down. Suddenly the bus started jumping up and down before it started somersaulting," she said.
She said that the vehicle somersaulted about three times and that she only found herself seated safely on a field by the road.
The middle-aged, fair-complexioned woman, who was wearing a dress designed for the burial, was full of praises to God, saying that "I escaped death by His grace."
The driver of the Hummer, Mr Bright Ugwubujor, blamed the accident on brake failure.
Narrating the incident to NAN at the Accident and Emergency Unit of the Federal Medical Centre, Umuahia, Ugwubujor said that the accident occurred when he attempted to overtake a vehicle ahead of him.
"When I tried to overtake the vehicle, I noticed an oncoming vehicle and attempted to retreat but I encountered a bump on the road and when I tried to apply the brake it could not work.
"Immediately, the vehicle began to somersault," he said.
A medical doctor at the unit, where all the victims were brought for medical attention, confirmed to NAN the death of the two women.
He said that other occupants of the bus, including the driver sustained bruises and minor injuries.
He further said Mrs Promise Uche-Nwamkpa, was brought in dead to the hospital.
The second woman, Mrs Nwamaka Maduchukwu, gave up while doctors were battling to resuscitate her with the aid of an oxygen, he said
Maduchukwu was a widow and mother of four children.
She was also the chairperson, State Information Chapel of the Abia Council of the Nigeria Union of Journalists (NUJ).
The Chairman of NUJ in the state, Mr John Emejor, who was at the hospital to sympathise with the victims, has expressed shock over the incident.
Also, the former lawmaker, Uche-Nwamkpa, who came to the hospital to identify the body of his wife, wept uncontrollably.
Her body was thereafter taken to the hospital morgue.
Meanwhile, members of Maduchukwu's church and colleagues resorted to frantic prayers to revive her.
An aide to the governor's wife, Mr Chika Ojiegbe, said the Office of the Wife of the Governor "will issue a release soon." (NAN)