By Rotimi Ojomoyela
ADO-EKITI—THE Minister of Mines and Steel Development, Dr. Kayode Fayemi, has said that youth empowerment remains vital to the Buhari administration's agenda to make them contribute meaningfully to nation-building.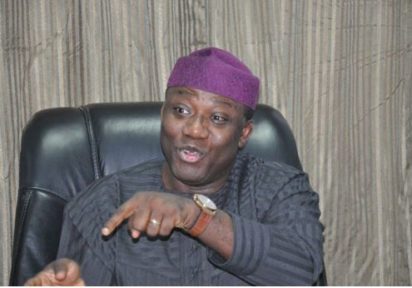 Fayemi, a former governor of Ekiti State, said this at the first anniversary of the Federal Government's N-Power scheme in Ekiti State.
The minister, who charged the beneficiaries of the N-Power scheme to support the All Progressives Congress, APC, at the forthcoming governorship election in the state, said this was imperative for them to have  such schemes sustained.
He said: "The vision and mission of Mr. President are to assure you of a better future. You must support the president to sustain the scheme.
"The President is in love with the young people and that is why he will continue to empower you. Make sure you collect your PVCs.
"If you want this programme to continue, vote wisely and vote intelligently to ensure that APC continues at the  centre  and ensure that APC returns to power (in Ekiti) this year so that programmes like this will continue."
A section of the beneficiaries of the scheme in Ekiti State pledged support  for the re-election of President Muhammadu Buhari if he declares an  interest to run in 2019, saying that the scheme had "lifted them from poverty and  saved them from the pangs of unemployment."
A total of 3,600 beneficiaries in Ekiti State joined the N-Power  scheme in 2016, while 8,000 were admitted into the scheme in 2017.