World leaders welcomed prospects for possible thaw in the long standoff over North Korea's nuclear weapons programme on Friday after U.S.
President Donald Trump said he was prepared to hold unprecedented meeting with North Korean leader, Kim Jong-Un.
Trump and Kim prompted jitters around the world in 2017 when they exchanged insults over North Korea's attempts to develop nuclear weapon capable of hitting the U.S., which it pursued in defiance of UN Security Council resolutions.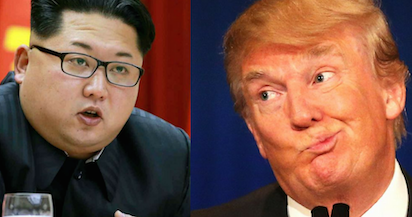 But tension eased around last month's Winter Olympics in South Korea, laying the groundwork for what would be the first meeting between leaders from North Korea and the U.S., and the biggest foreign policy gamble for Trump since he took office in January 2017.
"A meeting is being planned," Trump said on Twitter after accepting an invitation to meet  Jong-Un. There was no date or venue yet for the meeting although it could take place in May.
Chinese President Xi Jinping told Trump in a phone call on Friday that he appreciated his desire to resolve the North Korea issue politically, Chinese state media said.
Chinese President said he "hopes the U.S. and North Korea start contacts and dialogue as soon as possible and strive to reach positive results," a report said.
China is North Korea's largest trading partner and sole major ally, though overall trade has fallen in recent months as UN economic sanctions take effect.
Trump has frequently tried to enlist Chinese President's help to rein in Pyongyang.
The head of South Korea's National Security Office, Chung Eui-yong, speaking in Washington on Thursday said Trump had agreed to meet the North Korean leader by May in response to Jong-Un's invitation.
Jong-Un had "committed to denuclearisation'' and to suspending nuclear and missile tests, Eui-yong said.
The talks will take some weeks to arrange, U.S. Secretary of State, Rex Tillerson, said.
A venue was not announced but neutral Switzerland, which often hosts summits, said it was ready to facilitate the meeting.
A meeting between Trump and Jong-Un would be a major turnaround after a year in which North Korea has carried out a battery of missile tests that Washington sees as provocative and after a barrage of insults between the two leaders.
German Chancellor Angela Merkel said news of the possible meeting gave reasons to be hopeful about Korea.
"Regarding North and South Korea and also the possibility of a meeting with the president of the U.S., you can see that a cohesive international position, including sanctions, can lead to glimmers of hope," she said.
Trump had agreed to meet Kim without any preconditions, a South Korean official said.
"Jong-Un talked about denuclearisation with the South Korean Representatives, not just a freeze," Trump said on Twitter on Thursday night.
"Also, no missile testing by North Korea during this period of time. Great progress being made but sanctions will remain until an agreement is reached."
North and South Korea, where the U.S. stations 28,500 troops, are technically still at war after their 1950-53 conflict ended in a ceasefire, not a truce.
Tensions over North Korea rose to their highest in 2017 and the Trump administration said all options were on the table, including military ones, in dealing with Pyongyang.
Daniel Russel, until last April the Assistant Secretary of State for East Asia and the Pacific, the most senior U.S. diplomatic position for Asia, said he wanted to see detail and hear from North Korea on the plans for a meeting.
Some U.S. officials and experts worry North Korea could buy time to build up and refine its nuclear arsenal if it drags out talks with Washington.
NAN