By Josephine Agbonkhese
One year after US President Donald Trump reinstated the Mexico City Policy, otherwise known as the Global Gag Rule, women's rights activists in Nigeria have decried the policy's effect on disadvantaged women and girls in the country.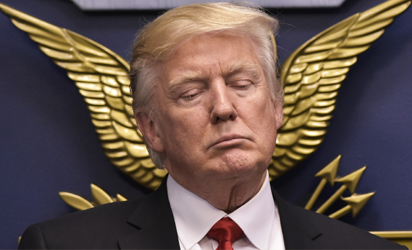 The document, which prohibits the use of US aid money for abortions, prevents NGOs from using private funds for abortion services, from referring women to groups that provide abortions, and even from offering information on services such as contraceptives, has, in effect, created a $600m funding gap on maternal health services' delivery worldwide.
Now named Protecting Life in Global Health Assistance by Trump, the document was initially put in place by the Reagan administration but got rescinded by the Obama administration in 2009.
Speaking at a one-day sensitization meeting organised by Ipas Nigeria and the Women Advocates Research & Documentation Centre, WARDC, on the policy, in Lagos, Dr Abiola Akiyode-Afolabi, Executive Director, WARDC, feared that it would further aggravate maternal health in the country.
"Most NGOs in Nigeria, except for a few like Ipas, get their funds from the US and maternal health remains a big challenge in the country, with over 50,000 deaths occurring yearly from unsafe abortion.   Such tragedies will be eventually eliminated by the provision of appropriate health information and services, as well as law enforcement to ensure access to safe abortion", Akiyode-Afolabi said.
"The Global Gag Rule infringes on all international human rights such as freedom of expression, participation and association because it says we cannot even talk about abortion and contraceptives as a method of family planning any longer. It also infringes on women's right to health.   There is great need for awareness on sexual and reproductive rights but with this policy, work on this area will be greatly reduced if nothing is done.
"We, for example, collaborate with an organisation called Centre for Reproductive Rights, which gets its fund from the US. Already, some of our donors are threatening to withdraw their funds if we continue to talk about abortion or contraceptives.
"This is going to create problems for Nigeria; many more disadvantaged women and adolescent girls will die in trying to get rid of pregnancies ignorantly. Also, we will end up having more children from unwanted pregnancies".
On its part, Ipas Nigeria, in a statement by its Country Director, Hauwa Shekarau, said complications resulting from unsafe abortions were major contributors to maternal morbidity and mortality in Nigeria.
Shekarau's words: "Nigeria, especially, is disproportionately affected by this policy. About 56% of unintended pregnancies are resolved by abortion in this country.
Now, NGOs that offer or promote abortions as part of their family planning services will be prevented from receiving any assistance from the US Agency for International Development, USAID, one of the largest contributors to international development assistance. This means more women will die."