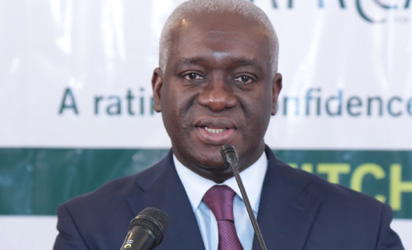 Felix Bikpo, CEO, African Guarantee Fund
By Yinka Kolawole
The African Guarantee Fund, AGF, was launched on June 1, 2012 as a market-friendly guarantee scheme aimed at easing access to finance for African Small and Medium Enterprises (SMEs).
AGF was designed and funded by African Development Bank, AfDB, in partnership with the governments of Denmark and Spain, to provide guarantees to financial institutions to stimulate financing to SMEs and unlock their potential to deliver inclusive growth in the continent.
Felix Bikpo, Chief Executive Officer of AGF, a Cote d'Ivoire national, in this interview with Vanguard's SMEs & Entrepreneurship, revealed how SMEs can access the Fund, among other things.
Excerpts:
Who are the promoters of African Guarantee Fund?
AGF is a Pan-African non-bank financial institution founded by the government of Denmark through the Danish International Development Agency, DANIDA, the government of Spain through the Spanish Agency for International Cooperation and Development, AECID and the African Development Bank, AfDB. Agence Française de Développement, AFD, joined AGF in 2015 followed by the Nordic Development Fund, NDF in 2016.
How exactly does AGF function?
In response to low levels of bank financing to SMEs in Africa largely due to risk perception, the AGF was created. Through our guarantee facility, we assist financial institutions to partially cover the risks associated with SME financing and thus, enable them to increase their portfolio in that asset class.
Through our capacity development facility, we assist financial institutions by enhancing their SME financing capabilities in order for them to be able to execute their SME growth strategies with ease.
A combination of our guarantee and capacity development facilities therefore, enables our partner financial institutions to scale their SME financing business. This not only enables them to bring down transaction costs significantly, but also increases returns on investment. It is in this way that AGF seeks to foster African economic development.
Do SMEs have direct access to your Fund in any way?
Whilst SMEs are our primary target, we prefer to remain anonymous to SMEs as part of our lending strategy. Instead, we reach them almost exclusively via our partner financial institutions who issue out loans that have been guaranteed by us.
Could you expatiate on the re-guarantee deal AGF just had with GuarantCo and specifically how it will impact SME financing?
We have recently entered into a re-guarantee transaction of an amount of up to $74 million with GuarantCo, to increase our guarantee capacity for SME financing within the infrastructure sector. Strengthening Africa's infrastructure is critical for development as it is through this that African countries become more competitive at a global level.
With this increased capacity, AGF will be able to support larger local currency transactions for SMEs involved in infrastructure.
How many Nigerian SMEs have benefitted from AGF loans since inception? And how much is involved in monetary terms?
Undoubtedly, Nigeria is an economic powerhouse in West Africa, and AGF has seen the uptake of its guarantee products grow spontaneously in the country over the last four-five years. Through our guarantees to partner financial institutions in Nigeria, financial loans have been issued to about 2,400 SMEs. The supported SMEs have directly created about 5,200 new jobs in the Nigerian economy and potentially sustained an almost equal number of jobs, with most of them going to the youth and women.
Specifically, which financial institutions in Nigeria has your organisation worked with, if any, on SME financing? And can you give a breakdown in terms of figures?
To date, AGF has worked with four financial institutions in Nigeria. Fortis Microfinance Bank whose partnership is for a fundraising guarantee, Ecobank Nigeria, Diamond Bank and OIKO credit all who have partnered with us for Loan Portfolio Guarantees.
Fortis has been able to raise $3 million under our guarantee to finance its activity. Ecobank Nigeria's Loan Portfolio Guarantee was for $12.5 million through which they have issued up to $25 million of facilities to SMEs. Diamond Bank partnered for a $12.5 million Loan Portfolio Guarantee. They have since issued up to $25 million of facilities to SMEs.
OIKO credit's is a Loan Portfolio Guarantee of $18 million and for this specific transaction, it intervenes all around Africa and we estimate at least $3 million invested in Nigeria.
You said you're willing to support SMEs that work with key players in the infrastructure sector. Can you be specific?
The development of our continent relies a lot on infrastructure as well as other sectors such agro-industry. It is for this reason that AGF approved infrastructure as a priority sector in our strategic plan. This implies that we work very closely with our financial institutions to see how we can increase their loan issuance to SMEs in this specific sector.
SMEs in infrastructure have high financing needs and this requires a specific structuring to be able to handle them. That is the reason we are working with strategic partners such as GuarantCo to increase the size of our support to individual SMEs.
We are also structuring our support to the entire value chain around infrastructure. The sustainability of our infrastructure is highly linked to the sustainability of SMEs working along the entire value chain to ensure the overall quality.